Share
Caramel is an iconic fall flavor so you're sure to be craving it now as the weather starts to get cool and the leaves start to change. Whether you're an experienced cook or you're new to the kitchen, these easy caramel desserts taste heavenly and make fall something to look forward to. Enjoy and let me know how it goes!
---
1

Samoa Sheet Cake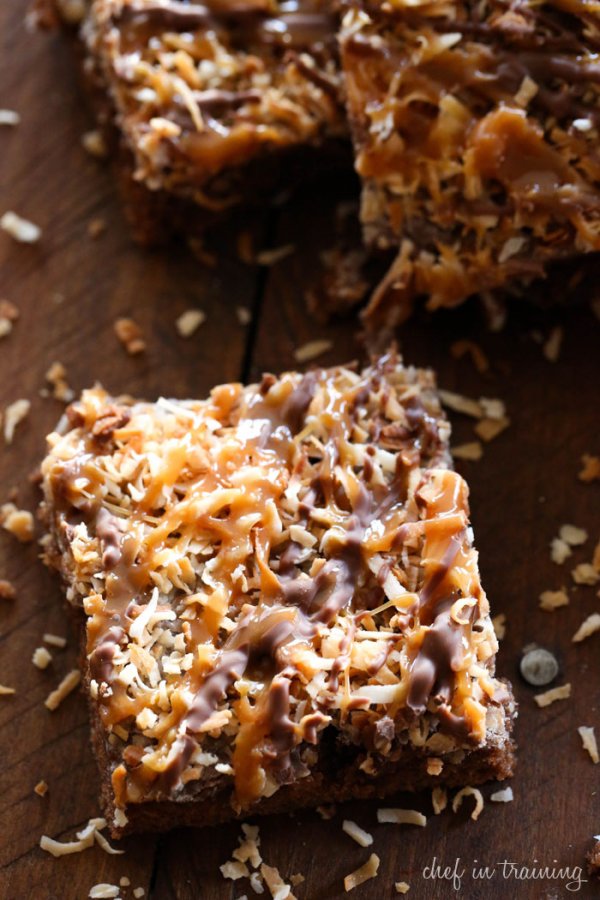 If you love Samoa Girl Scout cookies, you are going to adore this cake. It has just the right amount of caramel to make your fall flavorful and fun.
Ingredients:
2 cups flour
2 cups sugar
½ cup butter
1 cup water
4 tablespoons cocoa
½ cup shortening
½ cup buttermilk
½ teaspoon baking soda
2 eggs
1 teaspoon vanilla
½ cup butter
6 tablespoons milk
3 cups powdered sugar
1 teaspoon vanilla
1/8 cup caramel sauce
2 ½ cups toasted coconut
8 ounces caramel
1/8 cup evaporated milk
¾ cup chocolate chips
1 teaspoon shortening
Directions:
Line a cookie sheet with foil and toast the coconut for 2 to 5 minutes at 375 degrees. Meanwhile, place the sugar and flour in a large bowl. Place the butter, water, cocoa and shortening in a saucepan and bring to a boil. Add the flour and sugar mixture and stir well. Add the buttermilk, baking soda, eggs and vanilla, one at a time, mixing after each. Pour into a greased baking sheet and bake for 20 minutes at 400 degrees.
Combine the butter and milk and microwave until boiling. Add the caramel sauce, powdered sugar and vanilla, stirring to combine. Poke holes in the cooled cake with a fork and pour the mixture over the top. Top with toasted coconut. Combine the caramel and evaporated milk and microwave in 30 second increments until smooth. Pour it over the coconut. Combine the chocolate chips and shortening, microwaving for 30 second increments until smooth. Pour it over the cake. All the toppings to set, then serve.
Source: chef-in-training.com
---
2

Salted Caramel Dark Chocolate Cookies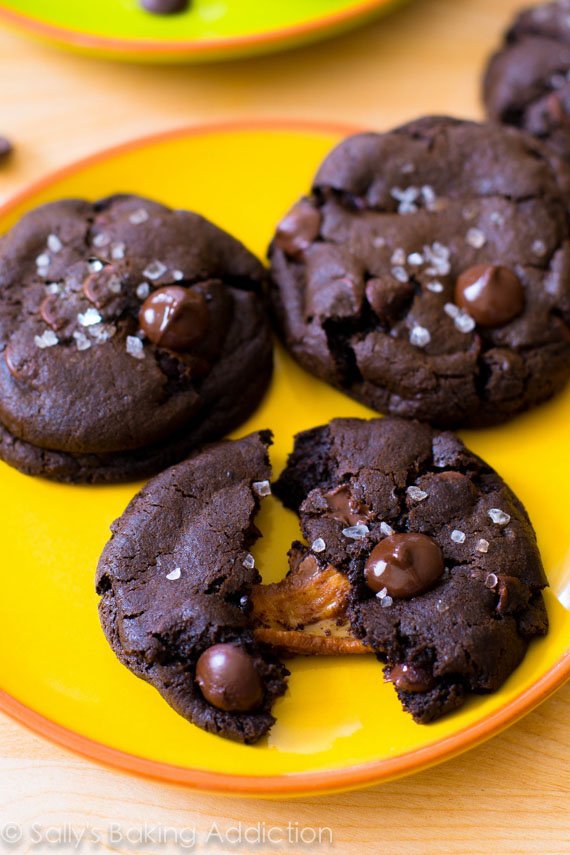 Salted caramel is popping up in desserts all over the place. You can jump on the bandwagon by baking and serving these decadent cookies. The melted caramel inside will make anyone happy.
Ingredients:
½ cup softened unsalted butter
½ cup sugar
½ cup packed brown sugar
1 egg, at room temperature
1 teaspoon vanilla
1 cup flour
2/3 cup unsweetened cocoa powder
1 teaspoon baking soda
1/8 teaspoon salt
2 tablespoons milk
1 ½ cups dark chocolate chips
16 chocolate coated caramels
Coarse sea salt
Directions:
Cream the butter for 20 seconds, then add the sugars and cream until soft and fluffy. Beat in the egg and the vanilla, scraping the sides as you go. In a bowl, sift together the flour, cocoa powder, baking soda and salt. Add the mixture to the butter and mix well. Add the milk and combine. Then fold in the chocolate chips and chill for at least 1 hour. Preheat the oven to 350 degrees and line a baking sheet with parchment paper. Roll the dough into 1 tablespoon balls. Insert a caramel into half the balls, and top each with another ball. Press the sides together and sprinkle the cookies with sea salt. Bake the cookies for about 12 minutes, allowing them cool before eating.
Source: sallysbakingaddiction.com
---
3

Caramel Graham Parfait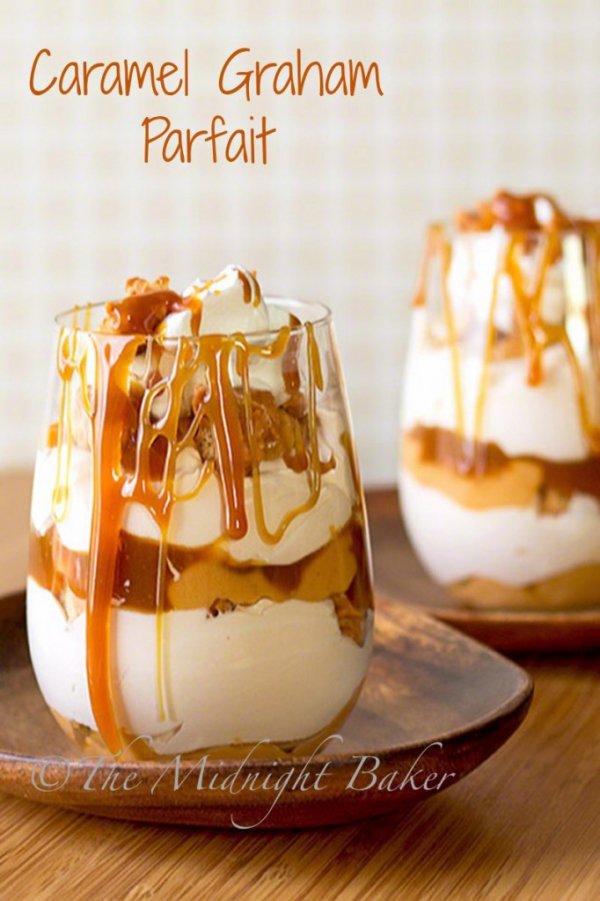 Need a quick snack to satisfy a caramel craving? This is sure to please your sweet tooth anytime of the day or night. Yum!
Ingredients:
1 box instant butterscotch pudding
1 ¾ cup milk
½ cup butterscotch morsels
1 teaspoon vegetable shortening
2 graham crackers
2 cups whipped cream
½ cup caramel sauce
Directions:
Combine the pudding and milk and chill for 1 hour. Melt the butterscotch morsels with the shortening in the microwave until smooth. Lay the crackers on a piece of waxed paper. Pour the butterscotch mixture over the crackers and chill until set. Combine 2 cups whipped cream with 1 cup pudding and break the crackers into pieces. Divide the remaining pudding, caramel sauce, graham crackers and whipped topping mixture among 4 cups, repeating the layers twice in each. Top with whipped cream and caramel sauce.
Source: bakeatmidnite.com
---
4

Mini Caramel Apples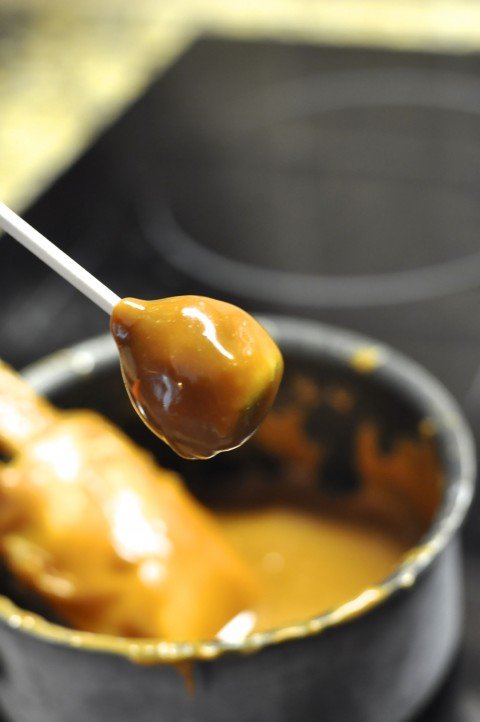 Caramel apples aren't the easiest thing to eat, right? That's why you need to learn how to make mini caramel apples. These bite-size little delights are the perfect fall snack. You're going to love them. I promise!
Ingredients:
4 large apples
1 bag caramels
Fall-colored sprinkles
Directions:
Use a melon baller to make as many balls out of the apples as you can. Insert a cake pop stick into each. Melt the bag of caramels as directed by the package. Dip each apple ball into the caramel and scatter each with sprinkles. Chill to set.
Source: mylitter.com
---
5

Salted Caramel Bark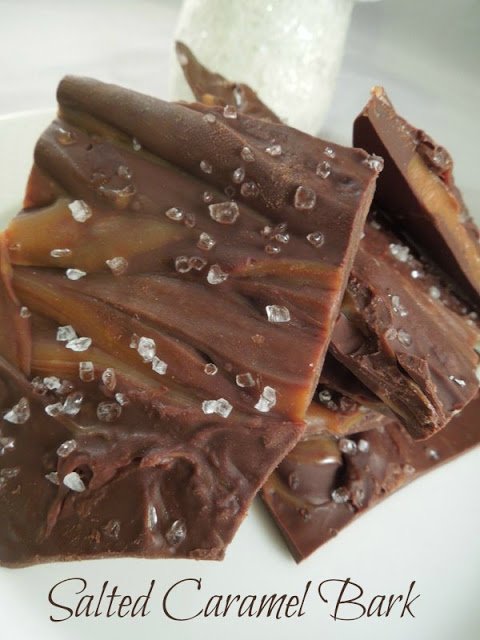 This is something that is very easy to get addicted to. If you don't want to share, you better hide this treat because it will go very fast!
Ingredients:
11 ½ ounces dark chocolate chips
11 ½ ounces milk chocolate chips
11 ounces caramel bits
2 tablespoons water
Coarse sea salt
Directions:
Cover a cookie sheet with wax paper. Microwave the caramels with the water for 2 minutes. Stir and microwave in 30 second intervals, until smooth. In a separate bowl, melt together the chocolate chips until smooth. Spread the melted chocolate on the wax paper. Spoon the caramel in large scoops over the chocolate. Use a spatula to swirl the two together. Sprinkle the bark with sea salt and freeze for 15 minutes. Break the bark and store in an airtight container.
Source: missinformationblog.com
---
6

Southern Caramel Cake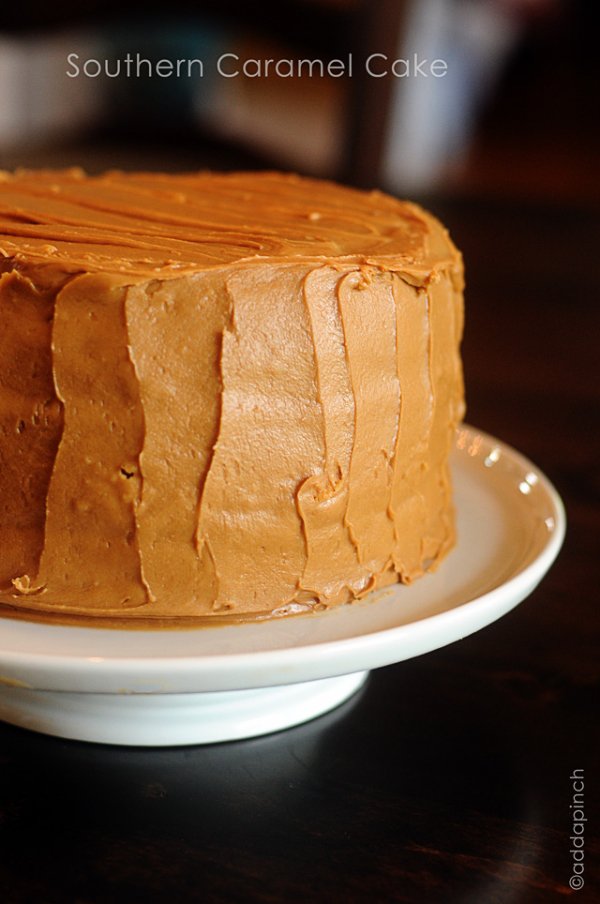 One taste of this delicious caramel cake and you'll never want to eat anything else for dessert. It's delicious and super easy to make.
Ingredients:
2 sticks butter
2 cups sugar
4 eggs
3 cups flour
1 cup buttermilk
2 teaspoons vanilla
2 cups sugar
1 cup milk
½ cup shortening
½ cup butter
1 teaspoon baking soda
Directions:
To make the frosting, place the last ingredients in a large Dutch oven. Swirl as the ingredinets cook. Heat to 235 degrees, remove from the heat and beat the mixture until smooth. Set aside.
To make the cake, preheat the oven to 350 degrees and prepare 3 9-inch cake pans. Cream the butter until it gets fluffy, then add the sugar and cream for about 8 minutes. Add the eggs, one at a time, creaming after each. Add the flour and buttermilk in small amounts, alternating back and forth so that you end with the flour. Add the vanilla and beat. Divide the batter among the cake pans and bake for about 25 minutes. Cool completely before frosting.
Source: addapinch.com
---
7

Soft Caramels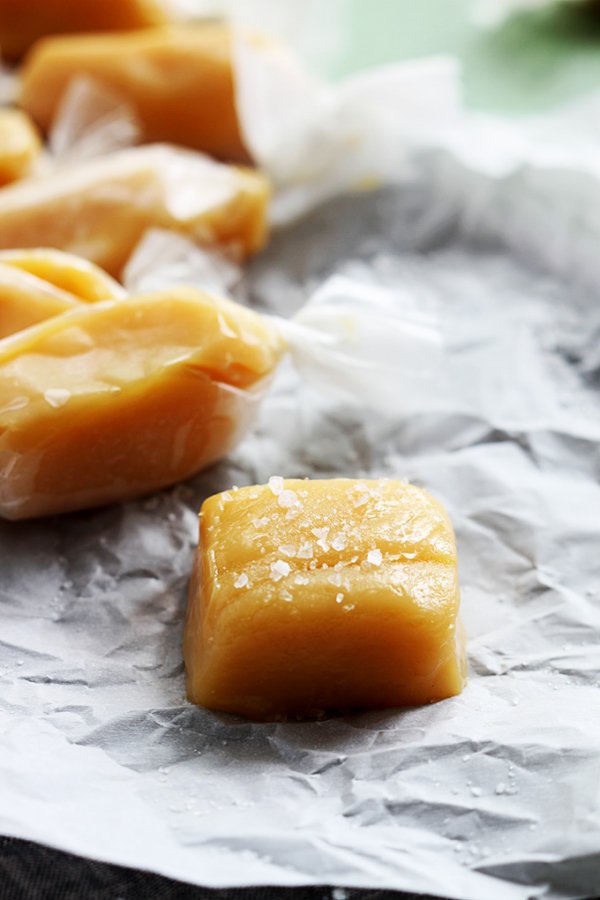 If you want to skip all the work and just indulge in some soft, creamy caramels, this is recipe for you. It's easy and results in a super delicious candy that you won't be able to stop eating.
Ingredients:
1 ½ sticks butter
½ cup sugar
3 tablespoons light corn syrup
14 ounces sweetened condensed milk
Directions:
Melt the butter and sugar together in a saucepan over medium heat. Add the corn syrup and condensed milk. Bring to a boil and simmer for about 7 to 10 minutes. You want a dark, golden color. Pour the mixture into a foil-lined pan and cool. Cut into pieces.
Source: lecremedelacrumb.com
Which one are you dying to try? Who will you share it with?
More