Share
It's that time again, ladies, where all the Girl Scout cookies you ordered are finally placed into your eager hands; so that means it's time to find some recipes with Girl Scout cookies! I bet you have a stock pile of Girl Scout cookies in your kitchen that you're just itching to devour! But instead of devouring the whole box in one sitting, check out these recipes with Girl Scout cookies and whip up some nice desserts instead of feeling guilty after indulging in the whole box by yourself!
---
1

Samoa Cookie Cupcakes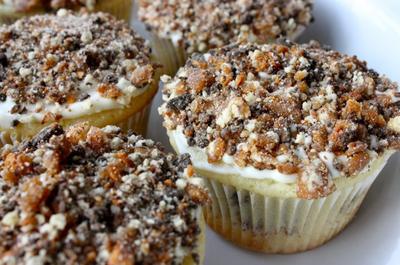 Samoas, also known as Caramel Delites, are my absolute favorite cookie, so of course this had to top my list of recipes with Girl Scout cookies – I just couldn't resist! These tasty little cupcakes are made totally from scratch! No boxed cake mix here! Also the Samoa cookies are used in two ways! They're sprinkled inside and on top of the cupcakes! A double dose of coconut chocolate goodness!
Ingredients:
Cupcakes:
1 3/4 cups cake flour, not self-rising
1 1/4 cups unbleached all-purpose flour
2 cups sugar
1 tablespoon baking powder
3/4 teaspoon salt
1 cup (2 sticks) unsalted butter, cut into 1-inch cubes
4 large eggs
1 cup whole milk
1 teaspoon pure vanilla extract
2 Boxes of Samoa Cookies
Directions:
Preheat oven to 325 degrees Fahrenheit
Fill cupcake liners 1/3 with cake batter. Then sprinkle a light layered of Samoa cookie crumbs on top. Pour the remaining batter until cupcake liners are ¾ full and bake for 17-20 minutes, then transfer to a wire rack and let cool.
Makes 24 cupcakes.
Frosting:
1 Can coconut milk
4 ouces cream cheese, s oftened
4 tbsp butter, softened
½ tsp vanilla extract
1 ½ cup powdered sugar
Directions:
Pour coconut milk into a saucepan and bring to a boil. Then, let simmer on medium heat until reduced by 75%. Make sure to stir occasionally so it doesn't burn! Next, combine two tablespoons of the coconut milk and other ingredients and beat until light and creamy! Spread one tablespoon of the frosting on each cupcake and then lightly press each cupcake into cookie crumbs. Make sure to store any of the unused frosting!
Source: rainydaygal.com
---
2

Tagalong Cupcakes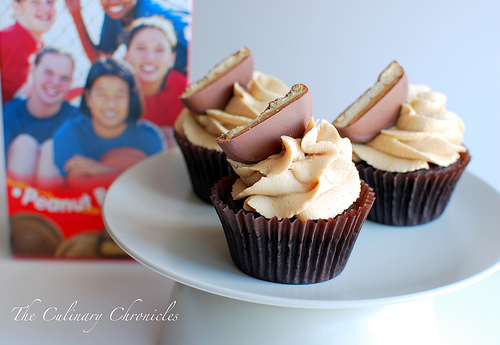 If you love peanut butter, you have to take a bite out of these delectable cupcakes! One cookie sits at the bottom of your cupcake and creates a nice crust, while the other is crumbled and sprinkled on top! Plus the frosting contains even more – (you guessed it!) peanut butter!
Ingredients:
Cupcakes:
¼ Cup Unsweetened Cocoa Powder
1 Cups All Purpose Flour
¾ Teaspoons Baking Soda
¼ Teaspoon Baking Powder
½ Teaspoon Salt
1 Cups Granulated Sugar
2½ Ounces Dark Chocolate, finely chopped
½ Cup Buttermilk
½ Cup Strong Brewed Hot Coffee
½ Cup Vegetable Oil
1 Large Egg
1 Teaspoon Vanilla Extract
12 Tagalong® Cookies (or other peanut butter & chocolate cookies), additional for garnish
Frosting:
1 Cup Smooth Peanut Butter
½ Cup Unsalted Butter, at room temperature
2 Tablespoons Lowfat Milk
2 Cups Confections Sugar
1-2 Pinches Sea Salt
Directions:
Preheat oven to 350 degrees. Place paper liners in muffin pans and put one cookie on the bottom.
Place finely chopped chocolate in a bowl and pour hot coffee over it. Cover bowl with plastic wrap and allow to sit for a few minutes. Remove plastic and stir until smooth. Sift together cocoa powder, flour, baking soda, baking powder, sugar, and salt into a large bowl. In a mixing stand, beat egg for a few minutes until it becomes pale yellow.
Beat in oil, buttermilk, and vanilla extract. Scrape down the sides of the bowl and slowly add the chocolate. Slowly add dry ingredients and mix until just incorporated. Pour batter into the lined cups–about 3/4 way. Bake for 20 minutes or until a toothpick inserted in the center comes out clean. Allow cupcakes to cool in the pans for 10 minutes before removing to cooling racks.
Prepare the frosting. In a standing mixer, whip the butter and peanut butter for several minutes until light and fluffy. Slowly add half of the powdered sugar a few spoonfuls at a time until incorporated. Drizzle in milk and add the rest of the sugar (spoonfuls at a time). Add sea salt and mix until combined.
Fill a pastry bag and pipe frosting on top of cooled cupcakes. Garnish with ½ a cookie or other adornments.
Source: theculinarychronicles.com
---
3

Thin Mint Brwnies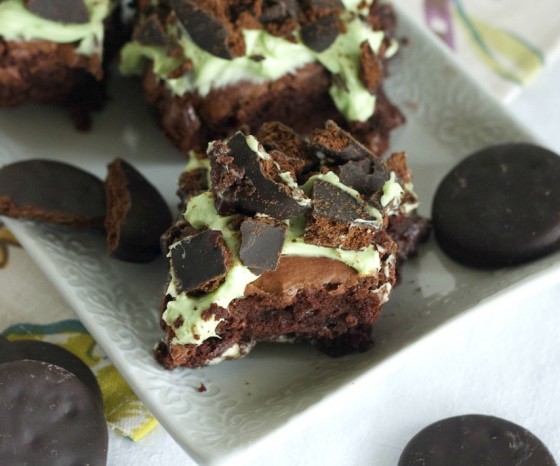 Thin mints are so addicting and they can get even more addicting if you bake them into brownies! The recipe below does just that! There's so much chocolate in this recipe that any chocoholic (including myself!) would swoon at the sight of this amazing dessert!
Ingredients:
Brownies:
1 stick Butter, cubed
2 oz. Bittersweet Chocolate, chopped
5 oz. Semi-Sweet Chocolate, chopped
2 tsp. Vanilla
3 Eggs
1 1/2 cup Sugar
3 Tbsp Cocoa Powder
1 cup Flour
10 Thin Mint Cookies, roughly chopped
Cream Cheese Topping:
1 brick Cream Cheese
1 1/2 cup Powdered Sugar
1 tsp Mint Extract
Green Food Coloring
Final Topping:
15 chopped Thin Mint Cookies
Directions:
Preheat oven to 350. In heat resistent bowl, combine chopped chocolates and butter. Place over a double boiler with barely simmering water, stirring the chocolate and butter until they are both just melted. Remove from heat and set aside to cool.
In large bowl, whisk together eggs, salt, vanilla, and sugar. Whisk in melted chocolate. Add in cocoa powder and combine. With rubber scraper fold in flour. Lastly, fold in 10 chopped Thin Mint Cookies.
Pour into a foil lined 8x8 inch baking pan. Bake for 40 minutes or until toothpick comes out clean.
Set on cooling rack to cool for 2 hours when done baking.
For Cream Cheese Topping:
In stand mixer, beat together cream cheese, powdered sugar, mint extract and green food coloring. Tint cream cheese to desired color. Place in bowl and refrigerate until ready to frost completely cooled brownies.
For Cookie Layer:
Roughly chop 15 Thin Mint Cookies.
Final Assembly:
Remove brownies from baking pan, and gently remove foil lining. Evenly spread tinted cream cheese mixture over the top. Gently press chopped Thin Mint cookie crumbles into the cream cheese mixture - just until they are fixed in place. Cut into 2x2 inch squares. Serve.
Source: countrycleaver.com
---
4

Girl Scout Cookie Stuffed Chocolate Chip Cookies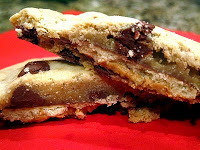 A cookie inside a cookie? Must I say anything more? Sounds like complete bliss to me!
Ingredients:
2 sticks softened butter
3/4 Cup packed light brown sugar
1 Cup granulated sugar
2 large eggs
1 Tablespoon pure vanilla
3 1/2 Cups all purpose flour
1 teaspoon salt
1 teaspoon baking soda
10 oz bag chocolate chips
24 of Your Favorite Girl Scout Cookies
**Directions:
**Preheat oven to 350 degrees F. In a stand or electric mixer cream butter and sugars until well combined. Add in eggs and vanilla until well combined
In a separate bowl mix the flour, salt and baking soda. Slowly add to wet ingredients along with chocolate chips until just combined. Using a cookie scoop take one scoop of cookie dough and place on top of a Girl Scout Cookie. Take another scoop of dough and place on bottom of Girl Scout Cookie. Seal edges together by pressing and cupping in hand until Girl Scout Cookie is enclosed with dough. Place onto a parchment or Silpat lined baking sheet and bake cookies 9-13 minutes or until cookies are baked to your liking. Let cool for 5 minutes before transferring to cooling rack
Makes about 2 dozen cookies
Source: ambersnook.blogspot.com
---
5

Girl Scout Cookie Shake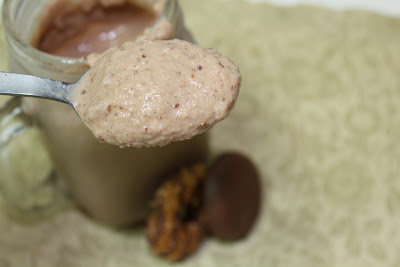 Tired of making baked goods? Try this cookie shake instead! Nice and refreshing and oh so sweet!
Ingredients:
2 caramel delites, chopped
2 Peanut butter patties, chopped
2 Tbsp chocolate syrup
7 scoops of vanilla ice cream
1/4 cup milk
**Directions:
**Pour all ingredients into a blender and mix
Now pour into a mug or bowl and place in freezer for at least 5 minutes to thicken
Source: azestybite.com
---
6

Thin Mint S'mores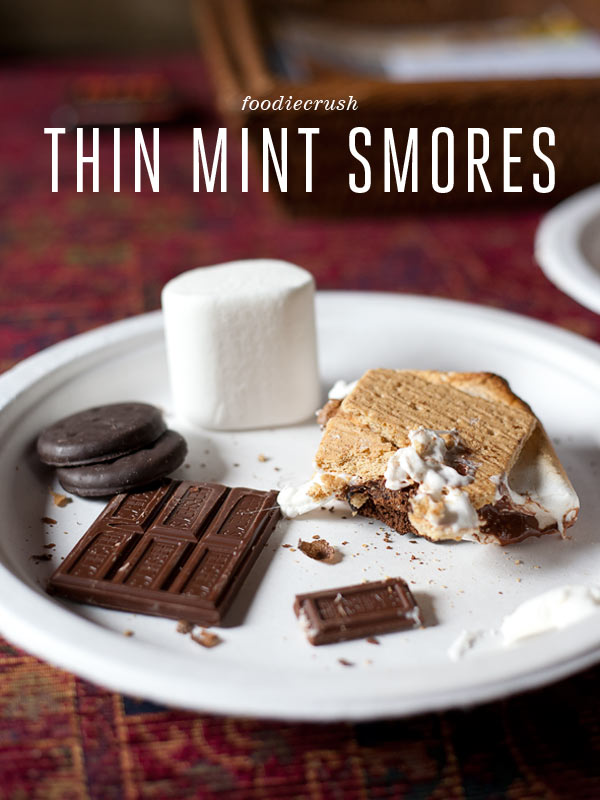 Similar to regular s'mores, but with a thin mint cookie! How could you resist (especially if you love s'mores as much as I do!).
Ingredients:
Large campfire marshmallows
Honey graham crackers
Chocolate bars broken into halves
Thin Mint Girl Scout Cookies
A hot fire
Directions:
Now, make s'mores how you normally would! Roast the marshmallow over the fire then place the marshmallow, a chunk of a chocolate bar and one Thin Mint Girl Scout cookie inside two graham cracker halves, mmm.
Source: foodiecrush.com
---
7

Samoa Popsicles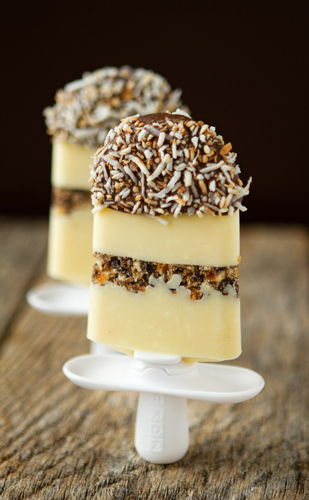 Last but not least, a frozen dessert! You'll need the Zoku Quick Pop Maker to make this dessert! I'm not sure if traditional Popsicle trays will work, but if you decide to give it a try, let me know how it goes!
Ingredients:
1 cup pre-made coconut pudding (vanilla will work too)
3/4 cup milk
½ teaspoon pure vanilla extract
3 Samoa cookies, finely chopped
Magic Shell
½ cup toasted coconut
Directions:
In a medium bowl, combine pudding, milk, and vanilla until thoroughly combined and smooth.
Assemble the pops
Insert sticks into the Zoku Quick Pop Maker. Pour 1 ounce of pudding base into each cavity and allow to freeze completely
Pour 2 teaspoons of finely chopped Samoa Cookies directly onto the frozen layer. Use handle of fork to gently pack the cookies into the frozen layer. Pour another layer of the base to the fill line. Let freeze completely, then remove the pops with the Super Tool. Repeat with remaining pops
Working over a bowl, drizzle the Magic Shell over the frozen pops and sprinkle with toasted coconut
Source: mybakingaddiction.com
Okay, ladies. How could you go wrong with any of these recipes?! They're all super delicious! Will you be trying any of these recipes? If so, which ones? Or do you have another recipe to share?
More