Share
Now is the time of year when pumpkin recipes start showing up all over the place. That doesn't mean you can't enjoy them year round though. If you find one that you can't live without, why not make it even when fall is over? Check out these tasty pumpkin recipes and you'll have a whole bunch of new ones to add to your rotation.
---
1

Pumpkin Pie Protein Smoothie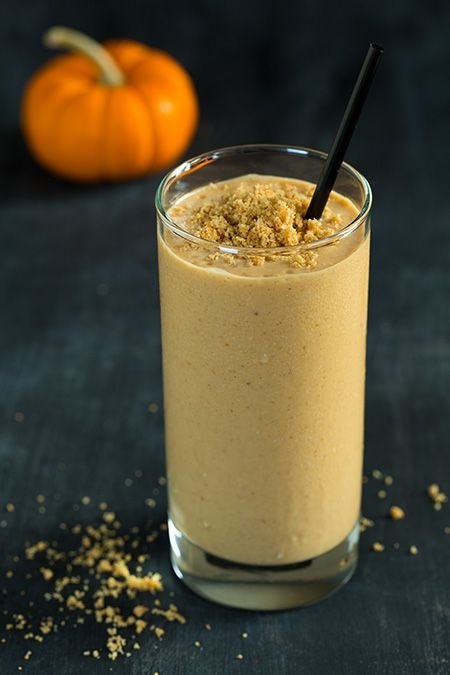 If you're looking for something that tastes like pumpkin pie in a glass, this is the recipe for you. It also happens to be one of the easiest pumpkin recipes you'll ever find. This would be a great treat for breakfast on a cool fall morning.
Ingredients:
1 cup unsweetened pumpkin puree
1 banana, frozen
½ to 1 cup unsweetened almond milk
1 scoop protein powder, unflavored
2 to 3 tablespoons agave nectar
½ teaspoon vanilla extract
½ teaspoon cinnamon
¼ teaspoon nutmeg
1/8 teaspoon ginger
Pinch cloves
Pinch salt
Ice
Directions:
Blend all the ingredients in a blender until smooth. Use more or less almond milk to get the consistency you want.
---
2

Slow Cooker Pumpkin Butter

If you love apple butter, you are going to adore this recipe for pumpkin butter. Slather it on a muffin or your morning toast. There's no better way to start your day, that's for sure!

Ingredients:

15 ounce can pumpkin
1 cup sugar
1 cup brown sugar
1 teaspoon ground cinnamon
¼ teaspoon nutmeg
½ teaspoon ginger
1/8 teaspoon cloves
4 ½ pint sized canning jars

Directions:

Put all of the ingredients into a slow cooker and stir well. Cover and cook on high for 3 hours. Stir every now and then. Place the mixture into each jar, filling about ¾ full. Add the lids and place in a boiling water bath for 40 minutes.
---
3

Pumpkin Granola

Granola is great for breakfast. I like to sprinkle it on Greek yogurt and drizzle the whole thing with a bit of honey. Adding the great taste of pumpkin makes it even better. Check it out!

Ingredients:

¼ cup quinoa, uncooked, rinsed and patted dry
1 ½ cups rolled oats
¼ cup ground flaxseeds
¼ cup pepitas
¼ cup pecans, chopped
½ cup dried cranberries
¼ cup syrup or honey
¼ cup pumpkin puree
1 teaspoon canola oil
1 teaspoon pumpkin spice
¼ teaspoon cinnamon
Pinch salt
½ teaspoon vanilla extract

Directions:

Preheat your oven to 325 degrees. Line a baking dish with parchment paper and spread the oats and quinoa in a single layer. Toast for 10 minutes. Transfer the oats to a bowl and add the flaxseeds, pepitas, pecans and cranberries. Reduce the oven to 300 degrees. In another bowl, mix together the syrup, pumpkin, oil, pumpkin spice, cinnamon, salt and vanilla. Pour the syrup mixture over the oat mixture and stir well to coat. Spread the granola on the baking sheet and bake for 20 minutes.
---
4

Savory Pumpkin Quiche

Quiche is such an easy and filling meal option. You can eat it in the morning, but it also tastes so wonderful at lunch and dinner. Adding pumpkin adds just the right amount of flavor and color.

Ingredients:

1 store bought pie crust
1 cup cream
2 eggs
1 small pumpkin, cut into chunks and roasted
½ onion, diced
1 diced garlic clove
2 teaspoons chopped fresh parsley
Dash of nutmeg
Dash of salt

Directions:

Pre-bake the pie crust for 10 to 15 minutes. Whisk together the eggs and cream. Add the parsley, nutmeg and salt and stir to combine. Remove the crust from the oven and spread with the pumpkin, onions and garlic. Pour the egg over the top. Bake at 350 degrees for 45 minutes.
---
5

Pumpkin Coconut Soup with Caramelized Pecans

Doesn't this just sound delicious? What a great meal to serve on a cold fall night. You'll want to make extra because you won't be able to stop at just one bowl.

Ingredients:

2 cups canned pumpkin puree
2 cups water
1/3 to ½ cup coconut milk
1 teaspoon red curry paste
3 to 4 tablespoons honey
¼ teaspoon cumin
Salt
1/3 cup pecans
1 tablespoon butter
1 tablespoon brown sugar

Directions:

To make the pecans, combine the butter and sugar in a saucepan over medium heat. Add the pecans and cook for about 5 minutes. Spread the pecans on a baking sheet to cool. Chop. To make the soup, place the pumpkin, water and coconut milk in a pot and heat over medium. Add half the red curry paste and stir. Add the honey and stir again. Add the cumin and season to taste with salt. Add more curry paste, if desired. Top with the pecans and serve.
---
6

Pumpkin Fries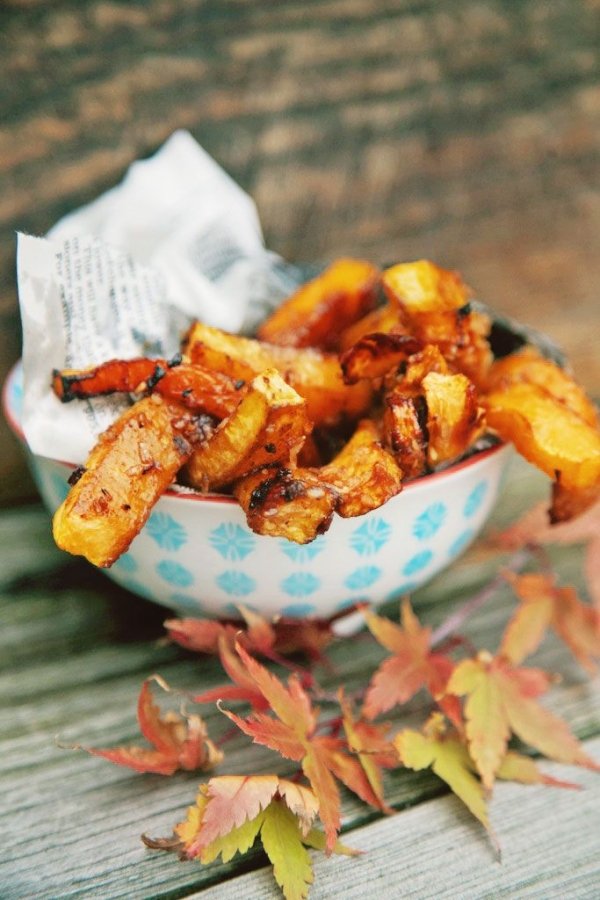 Everyone loves fries, but they aren't exactly a healthy food, are they? Try these pumpkin fries as a healthy alternative. They taste great and can really satisfy a craving.
Ingredients:
2 sugar pie pumpkins
2 teaspoons curry powder
2 teaspoons garlic powder
¼ teaspoon cayenne pepper
1 teaspoon onion powder
1 tablespoon olive oil
Directions:
Preheat the oven to 350 degrees. Peel and de-seed the pumpkins, then cut into strips. Coat the pumpkin with the oil, then the curry, garlic, cayenne and onion powder. Arrange in a single layer on a baking sheet covered with parchment paper. Bake for 30 minutes, or until the fries are soft.
---
7

Pumpkin Hummus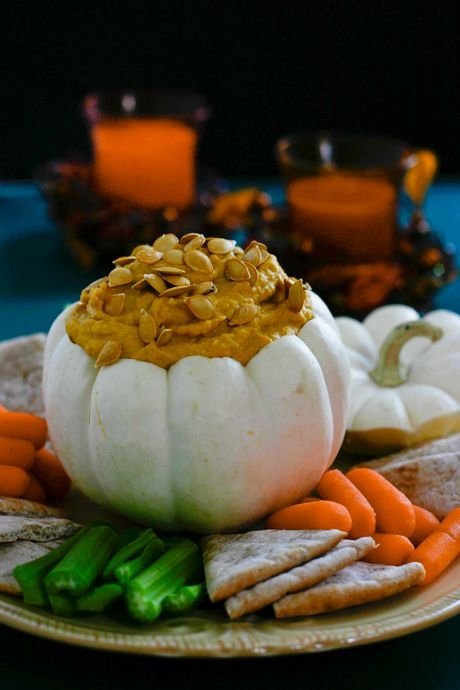 If you think regular hummus is good, wait until you try this pumpkin flavored version. It's great with sliced veggies or pita chips.
Ingredients:
¾ cup pumpkin puree
1 cup zucchini, peeled and chopped
¼ cup tahini
1 teaspoon garlic powder
Juice of 1 lemon
2 tablespoons olive oil
1 teaspoon ground cumin
½ teaspoon salt
½ teaspoon smoked paprika
Directions:
Place all the ingredients in your food processor. Process until smooth.
Which one will you try first? Who knew you could do so much with a pumpkin?
More