Share
Finding the right desserts for summertime is tough! There are so, so many choices out there and you really want to make something that stands for summertime right? With the summertime holidays right around the corner, you want to make sure that you have the right desserts for summertime to really impress your guests! So ladies, let's explore my top 10 desserts for summertime that will become part of your tradition!
---
1

Berry Pudding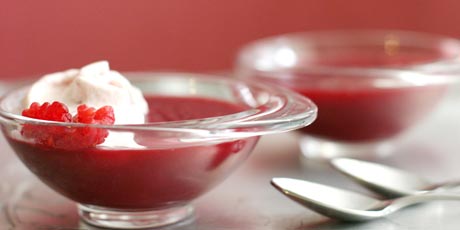 Instead of having something really heavy like chocolate pudding, why not make something light and summery? Berry pudding is a great and healthy alternative to any pudding out there! This is one of the desserts for summertime that is super easy to make too!
Ingredients:
For the pudding:
1 pound of frozen berries, blueberries, raspberries or strawberries or any combination
2 cups of orange juice
4 tablespoons of cornstarch
For the Berry Cream Topping:
1/2 cup of 35% whipping cream
2 tablespoons of raspberry jelly
Directions:
For the pudding:
Bring berries and juice to a simmer over medium heat. Strain through a fine mesh sieve into a clean bowl, add back to the pot and bring back up to a simmer.
Mix a slurry with the cornstarch a splash of water. Stir slurry into the strained berries until thickened. Pour into 4 serving glasses or ramekins and chill for at least 1 hour or even overnight.
For the Berry Cream Topping:
Whip cream and jelly together. Serve on top of Berry Pudding.
---
2

Raspberry Tart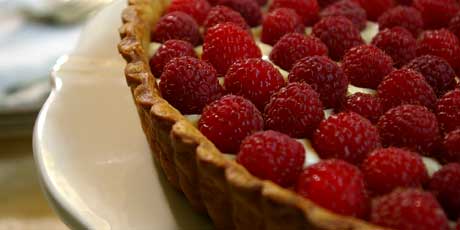 In the summer, one of my favorite desserts for summertime is a raspberry tart. Just the taste of this tart feels like summer to me! Ladies, it's also super easy to make! Try it and tell me what you think, I promise you'll love this dessert for summertime!
Ingredients:
Raspberry Tart
1 cup milk
half of a vanilla bean
3 egg yolks
1/4 cup sugar
2 tablespoons flour
1 tablespoon framboise liqueur
1/4 cup heavy cream
1 pound fresh raspberries
1 9-inch/23 cm cookie crust, baked
Directions:
Raspberry Tart
Put the milk in a saucepan. Split the vanilla bean, scraping the seeds into the milk, then drop in the pot. Heat to a simmer, remove from heat, cover, and set to infuse 10 minutes.
Beat the yolks with the sugar until pale. Beat in the flour. Pull the vanilla bean from the milk and whisk the milk gradually into the egg mixture. Pour back into the saucepan, bring to a boil, and cook one minute. Remove from the heat and stir in the framboise. Strain into a bowl, cover with plastic wrap, and set aside to cool. When chilled, whip the cream and gently fold it in.
Spread the pastry cream evenly in the base of the tart. Arrange the berries neatly over top.
---
3

Key Lime Pie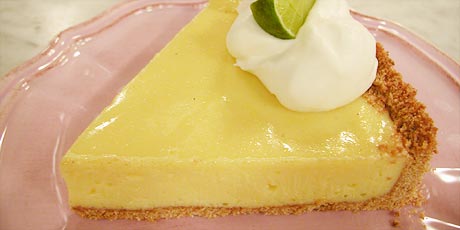 Summer wouldn't be complete without having some key lime pie! The important thing to remember whenever you are making key lime pie is to get real key limes. Besides that, this pie is super easy to make and it tastes so delicious too!
Ingredients:
Crust
3/4 cup graham cracker crumbs (175 ml)
1/4 cup almond flour (60 ml)
1/2 cup butter (125 ml)
1/3 cup sugar (75 ml)
Filling
1 14 ounce can condensed milk (392 ml)
3 egg yolks
1/2 cup key lime juice (125 ml)
Fresh key limes, for garnish
Whipped cream spiced with vanilla, for garnish
Chocolate drizzle, for garnish
Directions:
Crust
Preheat oven to 350 degrees F.
Add graham cracker crumbs, almond flour, sugar and melted butter into the bowl of a stand mixer or mix by hand. In stand mixer, using the paddle attachment, mix until well combined.
Pat into 9-inch pie plate or ring. Bake until just set and slightly golden, about 8 minutes.
Filling
Preheat oven to 300 degrees F.
Add the condensed milk, egg yolks, key lime juice to the bowl of a stand mixer. Whip all ingredients at medium speed for 2 minutes. Pour into prepared crust. Bake in a low oven for 25 to 30 minutes until custard is just set. Let cool. Serve chilled.
Drizzle with chocolate and garnish with whipped cream and key lime slices. Serves 6 to 8.
---
4

Frozen White Chocolate Souffle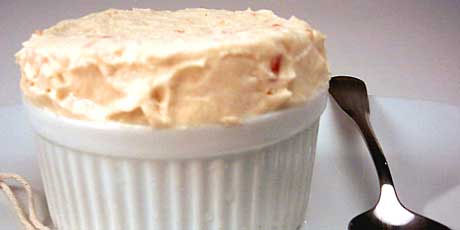 You might think that a souffle is hard to make, but really if you follow the directions, I promise it's not that hard at all! If you are looking for the ideal dessert for summertime, you've got to give this one a try! Not only will your guests be really impressed with you, but they will love the taste of this delicious dessert!
Ingredients:
Rhubarb
2 cups chopped rhubarb
1/2 cup sugar
2 teaspoons vanilla extract
Mousse
8 ounces white chocolate, chopped
1 1/3 cups whipping cream
2 egg, separated
2 tablespoons water
2 tablespoons brandy
rum
3 tablespoons sugar
dash salt
To Assemble
Directions:
Rhubarb
Simmer rhubarb, sugar and vanilla until soft. Puree and set aside to cool.
Mousse
Prepare 6 4-oz ramekins by wrapping outsides with parchment rings that stand 2 inches above the lip of the ramekin. Secure parchment with butcher's twine or an elastic band.
Over a pot of simmering water (or in the microwave) melt chocolate and set aside to cool. (Keep water simmering on the stove).
Whip cream to soft peaks and chill.
Whisk together egg yolks, water, brandy and 2 tbsp sugar for 2 minutes, to warm eggs. Whisk chocolate into egg yolk mixture and let sit until room temperature. Fold in whipped cream in 2 additions just until incorporated.
Whip egg whites to medium peak, and add 1 tbsp sugar and dash of salt. Fold a third into mousse followed by remaining two thirds. Fold in rhubarb quickly.
Pour or spoon mousse into ramekins, filling up over the edge of the ramekin. Freeze overnight (or at least 6 hours).
To Assemble
Simply remove parchment and garnish with a few fresh berries.
---
5

Peach Frozen Yogurt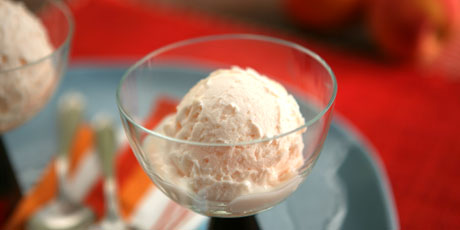 While I love ice cream, if you are looking for something that is going to be healthier, why not try some frozen yogurt? Even better, why not try some fresh and delicious peach frozen yogurt? You can even make this dessert for summertime yourself!
Ingredients:
Peach Frozen Yogurt
4 cups peeled and diced fresh peaches
1/2 cup superfine sugar (fruit sugar)
2 tablespoons lemon juice
1 teaspoon vanilla extract
2 cups yogurt
3/4 cup whipping cream, whipped to soft peaks
Directions:
Peach Frozen Yogurt
Purée peaches in a blender until smooth. Blend in sugar, lemon juice and vanilla until sugar has dissolved.
Pulse in yogurt until smooth. Fold in whipped cream and process in an ice cream maker following manufacturer's instructions.
Scrape frozen yogurt into a non-reactive container and freeze until firm, at least 3 hours.
---
6

Nectarine Raspberry Strudel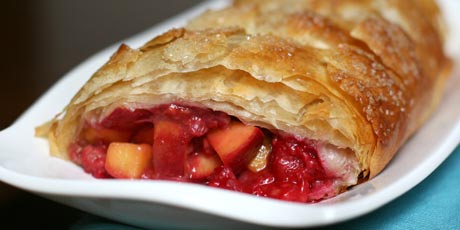 Two summertime flavors that I love together are nectarine and raspberry. This delicious strudel is the perfect compliment with my morning coffee – or after dinner! It's super easy to make, so fresh and it tastes so good ladies!
Ingredients:
Nectarine Raspberry Strudel
4 nectarines, diced (not peeled)
1 1/2 cups fresh or frozen raspberries (be certain to drain frozen well)
1/4 cup sugar
3 tablespoons all purpose flour
1/2 teaspoon cinnamon
1/4 teaspoon nutmeg
6 sheets phyllo pastry
2/3 cup unsalted butter, melted
turbinado sugar, for sprinkling
Directions:
Nectarine Raspberry Strudel
Preheat oven to 350° F. Toss diced nectarine with raspberries, sugar, flour, cinnamon and nutmeg and set aside. Lay out 1 sheet of phyllo pastry on work surface (keep unused phyllo under a moist towel to prevent drying). Brush sheet with butter and lay a second sheet of phyllo on top. Continue layering and brushing with butter until all 6 sheets have been used. Spoon nectarine filling along long end of pastry, leaving 2 inches at either end. Roll up phyllo, encompassing fruit. After first roll that covers fruit, fold over outside edges to seal in ends of strudel and continue rolling. Lift carefully and place seam-side-down onto a parchment-lined baking sheet.
Brush strudel with remaining butter and sprinkle top with turbinado sugar. Pierce top of strudel to allow steam to escape. Bake for 25 to 35 minutes, until light golden brown. Enjoy warm or at room temperature.
Strudel will keep refrigerated for 2 to 3 days, but warm in oven or microwave to serve.
Yield: 1 strudel. Makes 8 servings.
foodnetwork.ca
---
7

Apple Crisp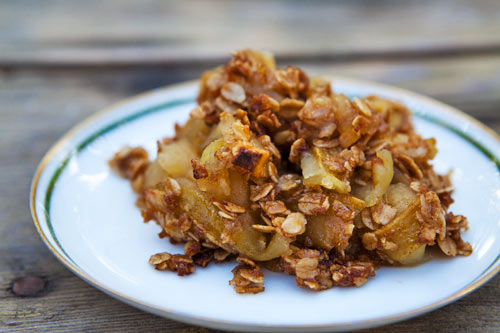 While you might think that apple crisp is actually a fall dessert, to me, if it's done right, it can be the ideal summertime dessert. Not only does it combine a great and tart apple, but the little cinnamon, the sugar and the crisp on top? So good! I wish I could make this and eat it all the time!
Ingredients:
7 tart apples, peeled, cored and sliced
4 teaspoons fresh lemon juice
1/2 teaspoon vanilla
1 cup brown sugar
1/2 teaspoon ground cinnamon
1 cup rolled oats
1/2 cup butter, room temperature
Directions:
1 Preheat oven to 375°F. In a mixing bowl, combine apples, lemon juice, and vanilla. Toss to combine.
2 Layer sliced apples in a 9 x 12-inch (or approximately the same size) baking pan.
3 Combine brown sugar, cinnamon, and oatmeal in a bowl. Cut in the butter. Sprinkle sugar mixture over apples.
4 Bake 45 minutes or until topping looks crunchy and apples are tender.
Serves 8. Serve with whipped cream or vanilla ice cream.
---
8

Meringue Cups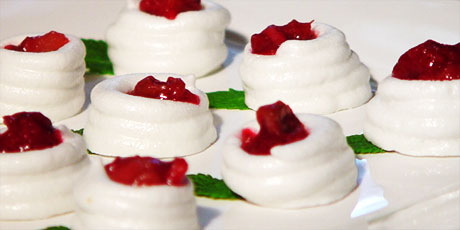 I think that meringue cups are actually some of the cutest cookies out there. You can make 'em up for any occasion and they actually can be filled with anything too! If you are looking for the perfect and sweet dessert for summertime, these are them!
Ingredients:
Meringue Cups
4 large egg whites
1/4 teaspoon salt (1 mL)
1/4 teaspoon cream of tartar (1 mL)
1 cup granulated sugar (250 mL)
Directions:
Meringue Cups
Preheat oven to 250 degrees F(130 C).
Line two large baking sheets with parchment paper.
In a standing or electric mixer, beat whites until foamy. Add salt and cream of tartar and whip until soft peaks form. Gradually add sugar, beating at high speed until whites hold stiff, glossy peaks.
Spoon half of meringue into pastry bag and pipe cups, starting with a 2-inch diameter base, and coiling a rope around the base, twice.
Bake meringues for 1 hour, turning heat down to 225 degrees F (110 C) if they begin to brown.
Allow meringues to cool in oven with heat off and door slightly ajar.
Store cooled meringues in an airtight tin.
---
9

Rhubarb Parfait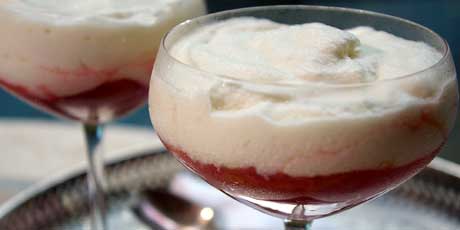 Rhubarb is one of those fruits that is absolutely essential during the spring and summer months. Not only does it taste good by itself, but strawberries and rhubarb taste so good too! These parfaits though, they highlight the rhubarb and taste so, so good!
Ingredients:
Rhubarb Parfait
2 cups sliced rhubarb
1/4 cup sugar
1 egg white
1 pinch Pinch salt
1/3 cup sugar
2/3 cup heavy cream
1 teaspoon vanilla
Directions:
Rhubarb Parfait
Prepare the rhubarb by putting it in a saucepan with the sugar and 1/4 cup/60 ml water. Bring to a simmer and cook until soft. If it seems too runny, simply leave on the heat, stirring, to let some of the liquid evaporate. Remove from the heat and set aside.
Beat the egg whites to stiff peaks with the pinch of salt. Heat the sugar with three tablespoons of water to thread stage (which is just before it starts to colour). With the beaters going, pour into the beaten egg whites and continue beating until the stiff meringue is cooled. Meanwhile, beat the cream to peaks with the vanilla. Fold the two mixtures together.
Spoon the rhubarb in the bottoms of four coupes. Top with parfait. Cover and refrigerate for a couple of hours before serving.
---
10

Caramelized Pineapple Brown Sugar Cake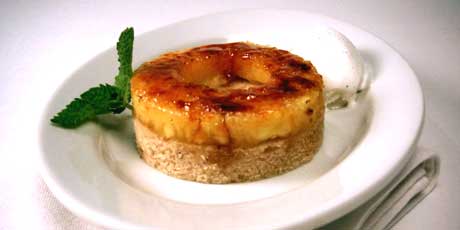 Finally, if you are looking for something that is tropical but also delicious, this dessert for summertime is the best! This combination of something tropical and cake is so delicious you'll be wanting it all year around! Trust me girls, this is a must for your next summertime party!
Ingredients:
Cake
1 cup unsalted butter, room temperature
2 cups brown sugar
1 cup granulated sugar
2 teaspoons vanilla extract
6 egg, room temperature
3 cups pastry flour
1/2 teaspoon salt
1 cup sour cream
1/4 teaspoon baking soda
1 fresh pineapple
brown sugar, for topping
To Assemble
Directions:
Cake
Preheat oven to 275 F. Grease and flour bundt pan.
In a mixer fitted with the paddle attachment (or with an electric mixer), cream butter, sugars and vanilla on high speed until light and fluffy, scraping down sides often. Add eggs one at a time, beating after each addition.
Sift together flour and salt.
In a separate bowl combine sour cream and baking soda. Add flour and sour cream alternately to sugar mixture, beginning and ending with the flour. Scrape cake batter into bundt pan.
Bake for 20 minutes at 275 F, then turn up oven to 325 and bake for an additional 40-50 minutes or until a tester inserted in the center of the cake comes out clear.
Peel and cut a fresh pineapple into rings (cutting out the core with a small cutter).
Cut Brown Sugar Pound Cake into even slices and cut rounds about the diameter as the pineapple slices.
To Assemble
Turn on the broiler. Place cake rounds on a foil-lined baking sheet. Place a pineapple ring on each cake and sprinkle generously with brown sugar. Broil for 1-2 minutes, until sugar is melted. Serve immediately (ideally with ice cream!)
Now, try picking one of these desserts for summertime to serve at your next party. Hard right? I couldn't choose so I picked all of them to serve at my last party! Even though I was in the kitchen baking desserts for summertime all day, it was so worth it! So girls, what is your favorite dessert for summertime? Share!
Top Image Source: pinterest.com
More