Share
It's the season for gingerbread, and I've got tons of gingerbread recipes to share with you that you are going to love! I have to be honest that I love baking and cooking with both pumpkin and gingerbread flavors all through February, despite that they're typical holiday flavors. They're so warming during the cooler months, and they're a nice refreshing change from traditional chocolate recipes, which we get plenty of when Valentine's Day hits. Hey, I love my chocolate and don't go without it, but it's nice to have something else to cure your sweet tooth, which is where gingerbread comes in. If you love the warming, rich scents and tastes that gingerbread brings, check out my favorite gingerbread recipes of the season. They're a little naughty and a little nice, but either way, they're incredibly delicious!
---
1

Gingerbread Protein Pancakes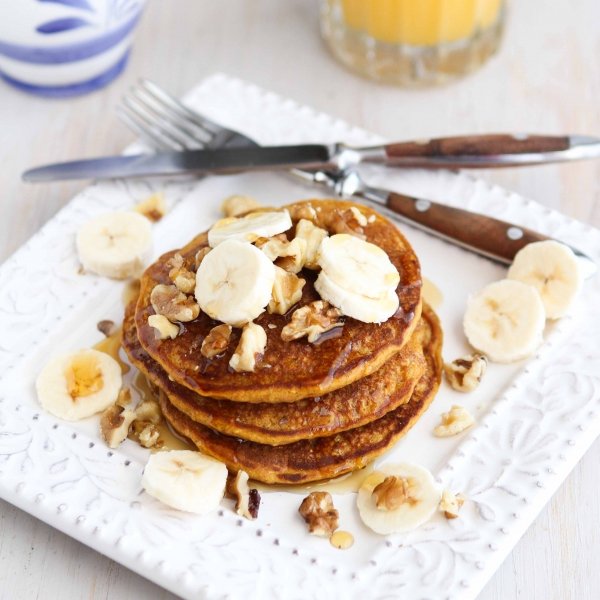 Everyone loves protein pancakes, and gingerbread recipes, so why not combine them and create one amazing dish in an incredible flavor? Here's a recipe for you to give you the best of both worlds. These are also grain- free, and refined sugar-free, easy to prepare and you can enjoy them with, or without syrup, as they are plenty sweet enough on their own.
Makes: 4 pancakes
Ingredients:
1 ¼ cups unsweetened vanilla almond milk
¼ cup egg whites
1 tbsp. ground flax seeds
1 tsp. vanilla extract
1 tsp. molasses
⅔ cup coconut flour
¼ tsp. pure stevia powder, or 10 drops of liquid
1 tsp. baking powder
1 tsp. cinnamon
¼ tsp. ginger
¼ tsp. nutmeg
¼ tsp. cloves
Directions: Add all the dry ingredients to a bowl and stir to sift well. Sit aside. Add the liquid ingredients to another bowl and stir well. Sit aside. Turn a griddle onto high, and spray with nonstick spray, or coat a skillet with nonstick spray and turn the burner on your stovetop on. Add the liquid ingredients to the dry, stirring very well to incorporate the coconut flour thoroughly, as it gets very, very thick when you stir it. The batter should be lumpy. Spoon it out on your griddle in ¼ cup servings at a time, and then cook for 2 minutes on each side, flipping in between. If you cook it in your skillet, cook one at a time. Cool pancakes on a glass plate and serve as you wish.
Adapted from: healthfulpursuit.com
---
2

Healthy Gingerbread Protein Bars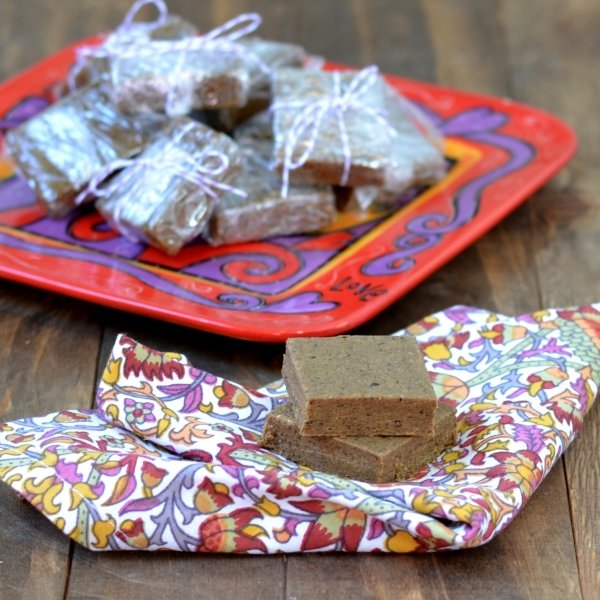 I love protein bars, but I don't like all the sketchy ingredients found in most processed bars, so I just make my own! These protein bars are full of cleaner ingredients than a traditional bar, but they still offer that same, convenient aspect. You could easily wrap these up in individual servings to go, and they're great to use if you're short on time for breakfast and want something already made you can take out the door with you. As a bonus, they're like eating dessert for breakfast, but completely healthy!
Makes: 8 bars
Ingredients:
½ cup unsalted, plain almond butter
10 drops of liquid vanilla stevia
½ teaspoon vanilla extract
¼ teaspoon cinnamon
1/8 teaspoon ground ginger
1 teaspoon blackstrap molasses
½ cup gluten-free rolled oats
½ cup vanilla protein powder ( I use Sunwarrior Raw Warrior Blend vanilla flavored, but you can use a whey product, or other vegan protein powder if you want)
Parchment paper
Directions:
First, line an 8x8 inch glass baking pan with parchment paper and sit aside. . This makes for easy removal. Next, In a medium sized bowl, combine the almond butter, stevia, vanilla, cinnamon, ginger, molasses and mix well. Next, stir in the oats, protein powder and mix again. Press the mixture into the pan. Keep pressing until the mixture is flat on all sides. I sometimes use the back of a wet spoon to help this process along. Chill in the fridge for an hour or more and cut into 8 bars and serve, or wrap in cut pieces of more parchment paper, store in baggies and keep these in the fridge for the week! I also like to freeze mine as I tend to make them last longer than by keeping them in the fridge through the week. They thaw in about 3 minutes on your counter from the freezer.
Adapted from: enourishment.blogspot.com
---
3

Gingerbread Muffins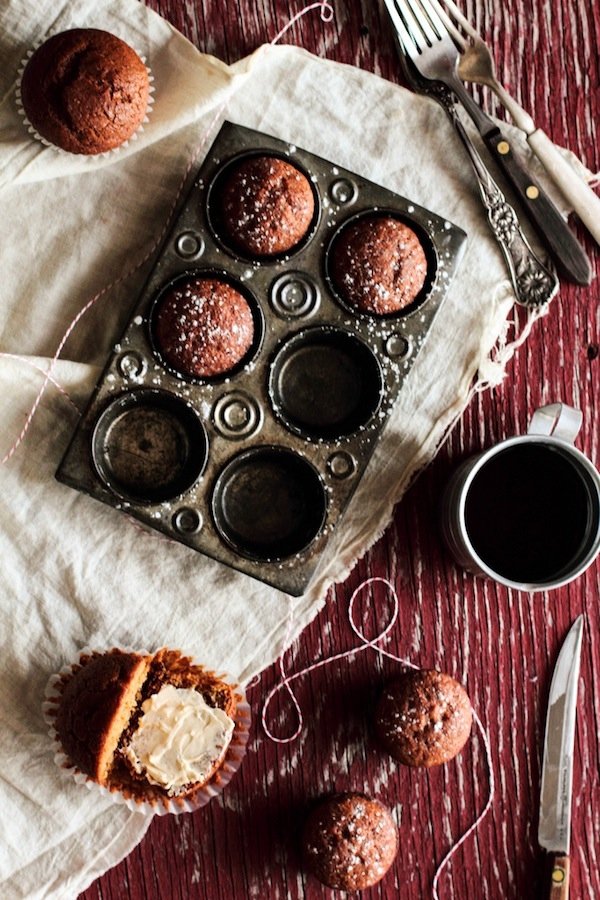 These muffins feature sweet potatoes as a surprise ingredient. They're incredibly delicious and can be made ahead of time, frozen and stored for easy convenience whenever you like. They're also vegan and refined sugar-free as a bonus!
Makes: 18 muffins
Ingredients:
Dry:
2 cups whole wheat pastry flour
2 tsp baking powder
2 tsp baking soda
2 Tbsps ground ginger
1 Tbsp ground cinnamon
1/4 tsp ground nutmeg
1 tsp salt
Wet:
1/2 cup coconut oil, melted
4 tbsp. ground flaxseed
2/3 cup unsweetened vanilla almond milk
15 drops vanilla liquid stevia
1 Tbsp vanilla extract
1 1/3 cups pure canned pumpkin
2 tbsp. molasses
1 cup sweet potato shreds
1 cup pecans, chopped
Directions: Preheat oven to 350 F. Line muffin pan with paper tins. Whisk dry ingredients together in a bowl and sit aside. Beat pumpkin, almond milk, stevia, blackstrap molasses, and ground flaxseed together for about a minute. Whisk in coconut oil and grated sweet potato.Slowly add the dry ingredients to the wet ones. When almost fully incorporated, fold in toasted pecans until just combined.Scoop 1/4 cup of the batter into each muffin tin. Sprinkle with coconut and push a pecan into the center of each muffin. Bake in preheated oven for 22 minutes, or until a toothpick comes out clean. Let cool in the pan for 5 minutes before taking them out of the pan and finish cooling on a cooling rack
Source: margaretsdish.blogspot.com
---
4

Gingerbread Cookie Dough Cups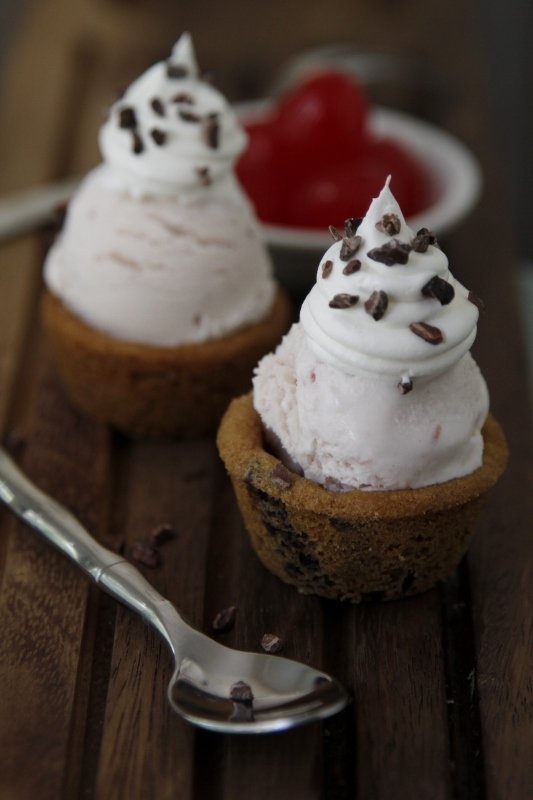 This recipe comes from one of my favorite bloggers, Emma, from Imma Eat That, and it's one of my new easy favorites when I need a decadent, healthy treat. These are much like buckeyes that people grew up loving, but instead feature a delicious gingerbread flavor. They're also pretty healthy, so give them a try if you want a little naughty with your nice!
Makes: 12 mini cups
Ingredients:
1 cup oat flour ( whole oats, ground into a flour- use about 1 ¼ cup oats for 1 cup oat flour)
1 tsp. cinnamon
¼ tsp. ginger
⅛ tsp. cloves
⅛ tsp. nutmeg
⅛ tsp. salt
½ cup mashed banana
2 tbsp. natural almond butter or peanut butter
2 tablespoon almond milk
1 tablespoon molasses
1 1/2 cup dairy-free chocolate chips
Directions: In a bowl, combine oat flour, cinnamon, ginger, nutmeg and salt. In a separate bowl, combine mashed banana, nut butter, almond milk and molasses. Pour wet ingredients into dry ingredients and stir until combined. Now melt your chocolate chips in a microwave-safe bowl by microwaving them in 30 second increments, stirring after each 30 seconds, until melted and smooth. Place 12 mini-muffin paper liners into a muffin tin. Fill the bottom of each with melted chocolate. Then roll a small ball of cookie dough and place it in the center. Cover with melted chocolate. Place in the fridge until hard.If you only make 12 chocolate cups, you will have leftover cookie dough to use however you wish such as right out of the bowl for snacking!
Source: immaeatthat.com
---
5

Gluten-Free Gingerbread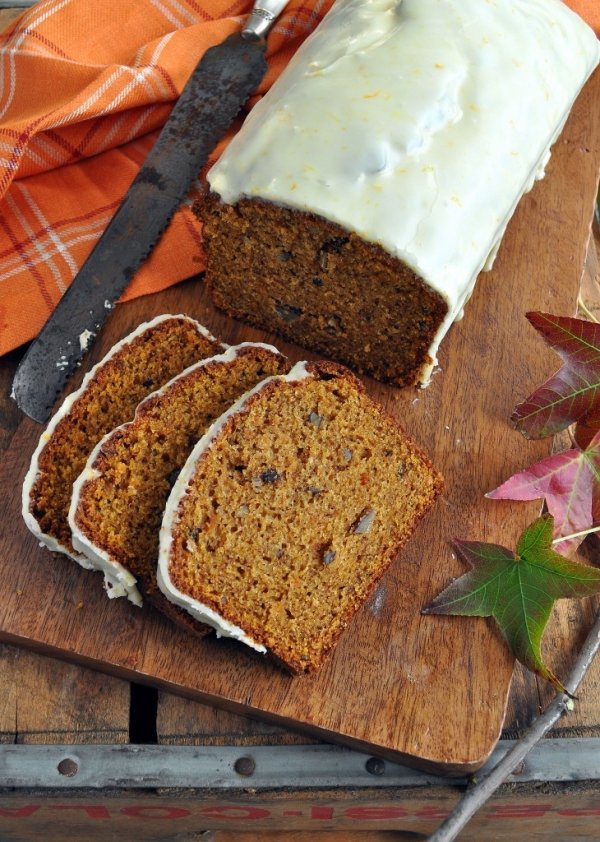 Just because this recipe is gluten-free doesn't mean it's lacking in flavor. It's amazing! It's also so light that you could easily use it as a sweet sandwich bread for nut butter and a banana! Try it hot or cool, and be prepared, because it probably won't last but a couple of days, it's so tasty!
Makes: 12 slices
Ingredients:
1 cup gluten-free flour mix ( such as Bob's Red Mill)
2 tbsp ground ginger
1 tsp ground cinnamon
¼ tsp salt
1 tbsp melted coconut oil
1 egg
3 tbsp molasses
2 tsp vanilla extract
¼ cup unsweetened almond milk
¼ c plain fat-free Greek yogurt
1/3 c coconut sugar
Directions: Preheat the oven to 325°F, and coat an 8"x4" loaf pan with nonstick cooking spray. In a medium bowl, whisk together the dry ingredients. In a separate bowl, whisk together the oil and egg. Stir in the molasses, vanilla, milk, and yogurt. Mix in the coconut sugar, smearing out any clumps along the side of the bowl. Add in the flour mixture, stirring just until incorporated.Pour the batter into the prepared pan, and bake at 325°F for 40-45 minutes, or until a toothpick inserted into the center comes out clean. Cool in the pan for 10 minutes before turning out onto a wire rack to cool completely.
Adapted from: foodsforthesoul.net
---
6

Chocolate Chip Gingerbread Granola Bars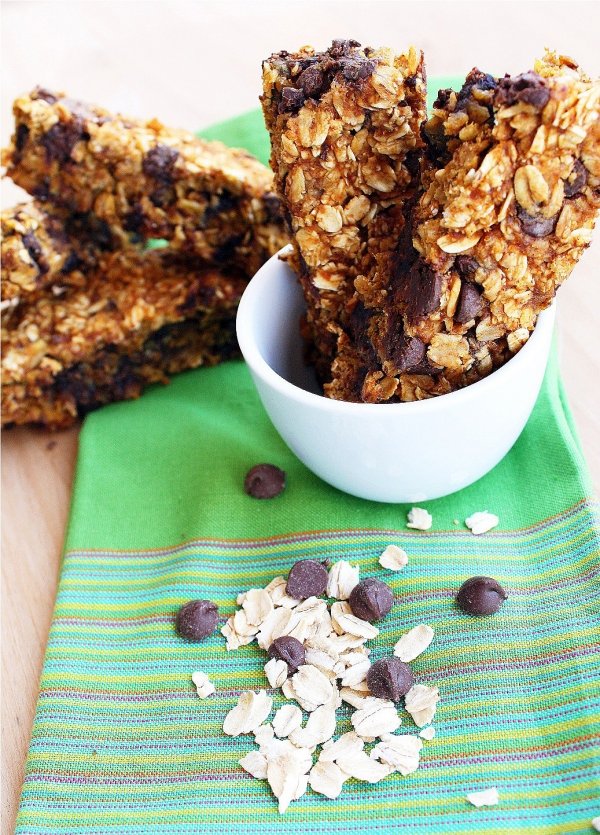 Combining chocolate and gingerbread together? The ultimate answer to a delicious breakfast and snack that tastes more like dessert. That's what you'll get with these amazing bars, which you have just got to try! Make them ahead for the week and you'll love amazingly convenient they are.
Makes: 10 bars
Ingredients:
1 cup oat flour
1 1/2 cups gluten-free rolled oats
1 1/2 tsp dried ginger
1/2 tsp dried cinnamon
1/4 tsp dried cloves
1/4 tsp dried nutmeg
1/4 tsp salt
2 T ground flax
1/2 cup natural almond butter
1 tablespoon blackstrap molasses
10 drops of liquid stevia ( vanilla flavor works great here)
1/2 cups Enjoy Life dairy-free chocolate chips, plus ¼ cup more if you want a drizzle on top of the bars
1 tablespoon water
Directions: Preheat oven to 350 degrees F. Mix together oat flour, rolled oats, flax seed and spices. Add in almond butter, molasses and stevia, and stir together well. It should be slightly wet but sticky. If it is too dry, add tablespoon of water. Sit aside. Spray a 9 x 9 inch baking dish with non-stick spray or grease with coconut oil. Spoon the mixture into the pan and flatten with hands making sure surface is even. Bake for 20-25 minutes. Edges should be golden brown. Remove and let sit for 20-30 minutes before cutting and placing on a wire rack to cool completely. If desired melt 1/4 cup of chocolate and drizzle on top. Store in an airtight container for up to 5 days or in freezer for several months.
Source: thehealthymaven.com
---
7

Coconut Gingerbread Smoothie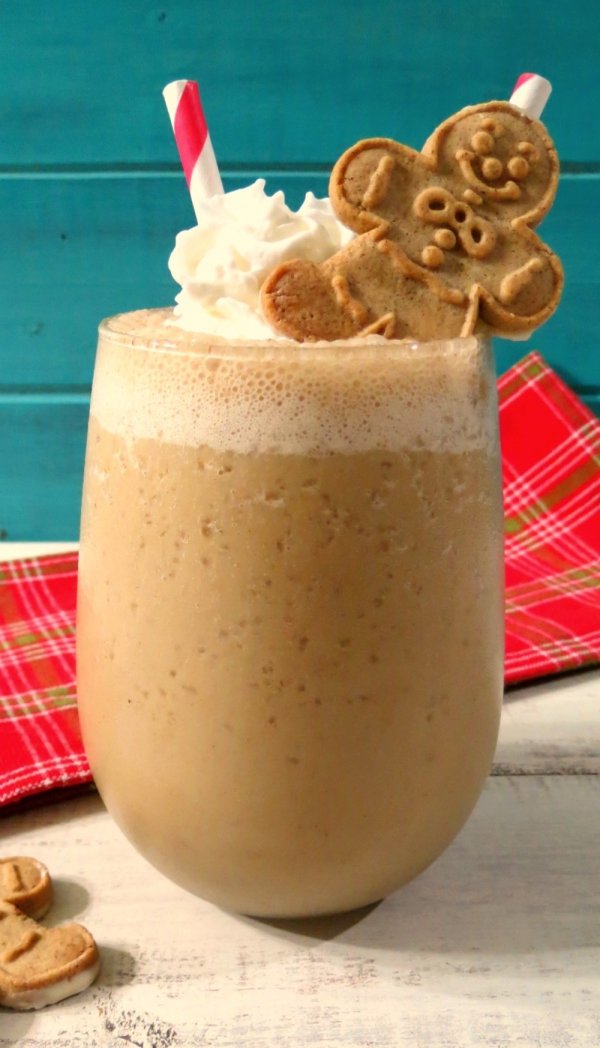 A smoothie with gingerbread? Sign me up! This smoothie is so delicious and also not that bad for you nutrition-wise. It's also a little change-up from the traditional flavors most of us are used to. Try it one morning when you need a little extra something special to start your day with!
Makes: 1 serving
Ingredients:
1 cup unsweetened vanilla
½ cup cold water
¼ cup canned pumpkin puree ( or you can use ½ a small banana)
1/4 tsp. nutmeg
1/2 tsp. cinnamon
1/2 tsp. ginger, ground
1/8 tsp. cloves, ground
1tsp. vanilla extract
1 tbsp. molasses
5 drops liquid vanilla stevia ( or 2 packets)
1 cup ice cubes
Directions:
Place all ingredients in a blender and process until smooth.
Source: peanutbutterandpeppers.com
If you're a fan of gingerbread, give some of these unique and tasty recipes a try. Hopefully, they'll give you a new way to love the flavors of gingerbread and appreciate it in a whole new light. Do you like gingerbread treats?
More