Share
Nothing says summer like ice cream sundaes, so I think you're going to like these recipes a whole bunch. Whip them up to cap off a great summer barbecue or to surprise your kids on a hot summer afternoon. I love ice cream sundaes and I hope you love these versions as much as I do. Of course, as always, I love to hear your ideas too, so feel free to share your favorite sundae.
---
1

Caramel Apple Sundaes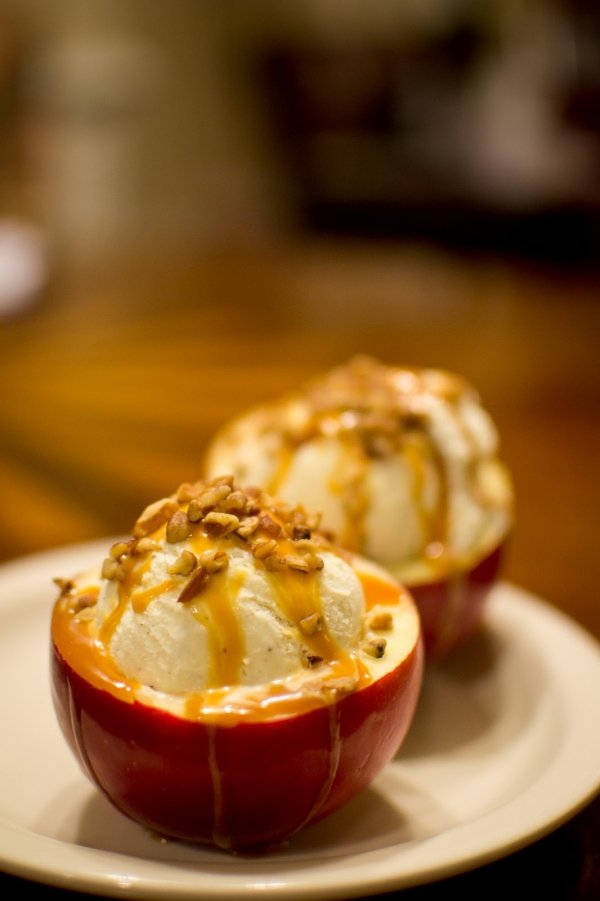 There's nothing I love more than the combination of caramel and apple, which makes this one of the best ice cream sundaes I've ever tasted. This treat will satisfy your cravings for something sweet and it's really easy to throw together.
Ingredients:
3 apples, peeled cored and sliced
1 ½ tablespoons fresh lemon juice
6 tablespoons unsalted butter
2 ¼ cups sugar
1/8 teaspoon salt
3 tablespoons Calvados
1 ½ cups heavy cream
Cinnamon ice cream
Nuts and oats
Directions:
Sprinkle the apples with the lemon juice and set aside. Melt the butter over medium heat and dissolve the sugar in it. This should take about 15 minutes. Add the apples, their juice and the salt. Reduce the heat to medium-low and cook about 10 minutes. Add the Calvados and ½ cup cream. Transfer the mixture to a bowl and cool by placing in a larger bowl of ice water. Whisk the remaining cream until peaks form. Layer equal amounts of the apples and the ice cream in a dish. Top with the cream, oats and nuts.
Source: marthastewart.com
---
2

Apple Butter Ice Cream with Ginger Chocolate Ganache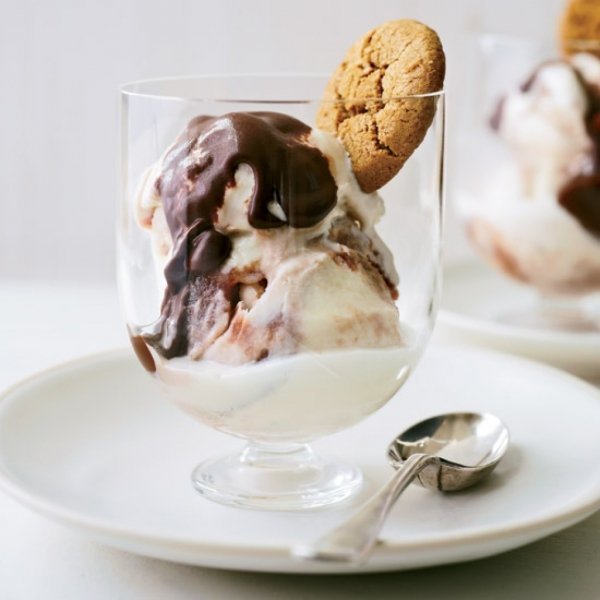 The name just sounds decadent. This ice cream sundae is super elegant and full of flavor, but don't be fooled because it isn't even hard to make. This is a great choice for a party or to impress a date.
Ingredients:
1 pint vanilla ice cream
1/3 cup apple butter
4 ounces chopped bittersweet chocolate
1/3 cup heavy cream
2 tablespoons fresh ginger, finely grated
Gingersnaps
Directions:
Soften the vanilla ice cream in a bowl, then fold in the apple butter. Freeze until firm. Melt the chocolate and whisk the heavy cream into it. Strain the ginger and press to remove all the extra juice. Add to the chocolate and whisk to combine. Serve the ice cream topped with the chocolate and the gingersnaps.
Source: foodandwine.com
---
3

Cracker Jack Sundae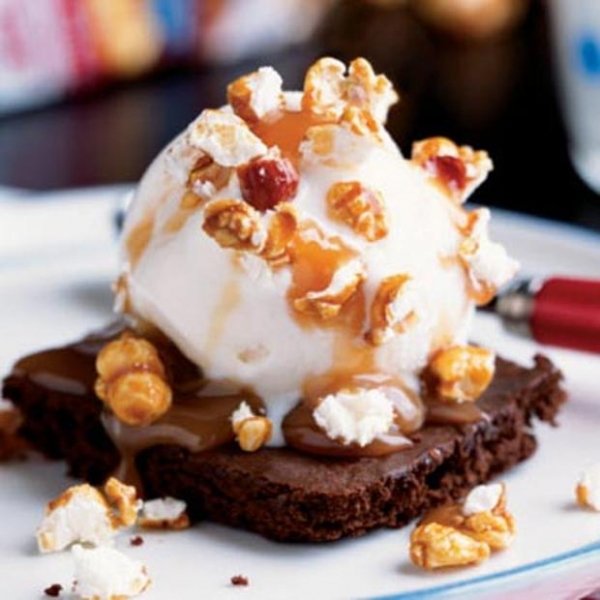 I love this recipe because it's so simple. You don't have to measure out a ton of ingredients so you can sit down and enjoy your treat with very little time and effort. Who could ask for more?
Ingredients:
Vanilla ice cream
Popcorn
Caramel
Peanuts
Directions:
Top your vanilla ice cream with the popcorn, caramel and peanuts. Enjoy!
Source: realsimple.com
---
4

Ice Cream with Chocolate Caramel Sauce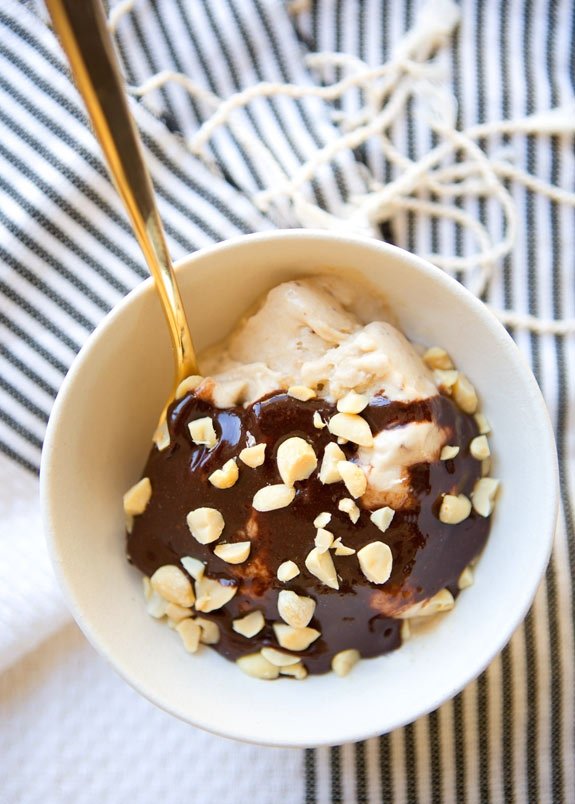 Chocolate and caramel are my two favorite ice cream toppings so this is a great ice cream sundae. You're going to love it as much as I do – I promise!
Ingredients:
2 tablespoons sugar
3 tablespoons heavy cream
1 ounce coarsely chopped bittersweet chocolate
1/8 teaspoon vanilla
Vanilla or coffee ice cream
Directions:
Cook the sugar over high heat for about two minutes. Cook for 2 or 3 more minutes until the sugar is golden brown. Remove the sugar from the heat and stir in the cream. Once the bubbles stop, stir in the chocolate until smooth. Stir in the vanilla and serve the sauce over the ice cream.
Source: epicurious.com
---
5

Easy Ice Cream Sundae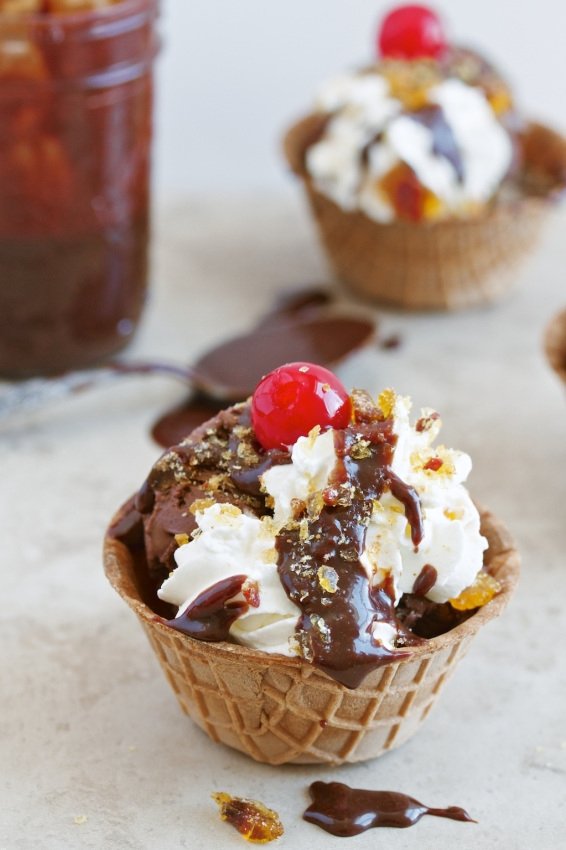 I love the sound of that! When I want ice cream, the last thing I want to do is spend a ton of time making it. All I want to do is get down to eating it. That's what makes this such a great recipe.
Ingredients:
12 ounces semisweet chocolate chips
1 can evaporated milk
½ teaspoon salt
12 ounces crushed vanilla wafers
½ cup butter, melted
2 quarts of your favorite ice cream
Directions:
Melt the chocolate chips with the milk and salt over medium heat for about 25 minutes. Set aside. Stir together the butter and the vanilla wafers. Reserve one cup. Press the rest of the wafer mixture into a pan and chill. Pour the chocolate on the crumbs and freeze. Spread the ice cream on the chocolate and cover with the rest of the crumbs. Freeze for 2 hours before serving.
Source: tasteofhome.com
---
6

Pina Colada Sundae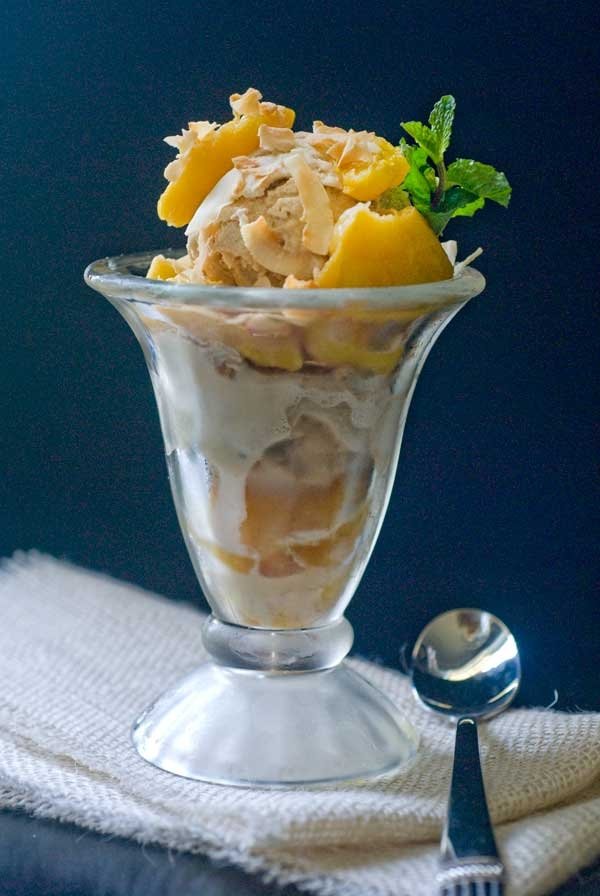 Another totally easy sundae. This one is reminiscent of a day at the beach and the flavors can't be beat.
Ingredients:
Vanilla ice cream
Fresh pineapple
Shredded coconut
Directions:
Cover the ice cream with the pineapple and coconut and serve.
Source: realsimple.com
---
7

S'Mores Sundae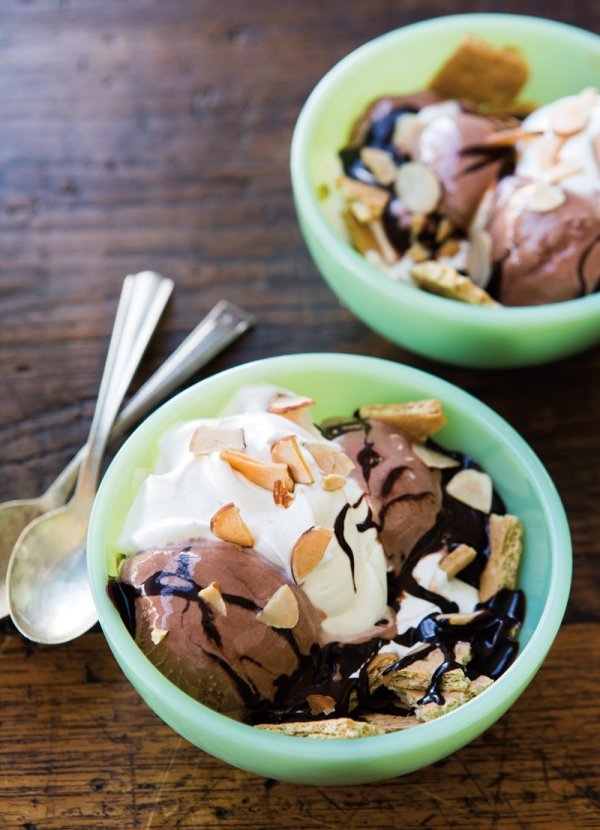 I love Real Simple magazine so I'm tossing in another one of their super easy sundae recipes. You can go from an empty bowl to a delicious treat in just minutes.
Ingredients:
Ice cream
Mini marshmallows
Hot fudge
Graham crackers
Directions:
Top the ice cream with marshmallows, fudge and graham crackers.
Source: realsimple.com
Ice cream is the perfect summer treat, and these recipes are so easy to put together. Which one will you make first?
More