Share
When you're in the mood for a snack that can feed your whole household, it's time to bake some dessert pizzas. Whatever kind of snack you're craving, whether it's rich chocolate or sweet strawberries, you can have it. Here are some of the most delicious dessert pizzas you'll love to stuff your face with:
---
1

Cookies and Cream Pizza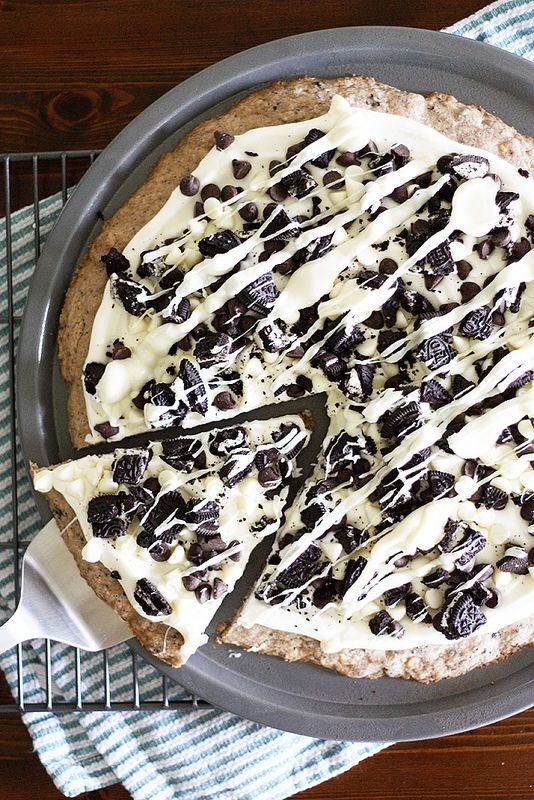 This is one of the dessert pizzas that tastes as delicious as it looks. If you're a fan of cookies, then you won't be able to wait for this snack to cool before you start digging in. It's just too enticing.
Ingredients:
1 box Hershey's Cookies 'n' Creme cookie mix
⅓ cup butter, softened
3 tablespoons water
1 cup whipping cream
½ cup Betty Crocker Rich & Creamy cream cheese frosting
½ cup semisweet chocolate chips
½ cup white chocolate chips, plus more for melting and drizzling
1 cup crushed cream-filled chocolate sandwich cookies
Instructions:
Heat oven to 375F. Combine cookie mix, softened butter, and water in bowl until dough forms. Press into pizza pan. Bake 12-15 minutes. Cool for 1 hour. Beat whipped cream, and stir in cream cheese frosting. Spread mixture evenly over pizza. Sprinkle with chocolate chips and cookie pieces. Melt one handful of white chocolate to drizzle on top.
---
2

Cinnamon Pizza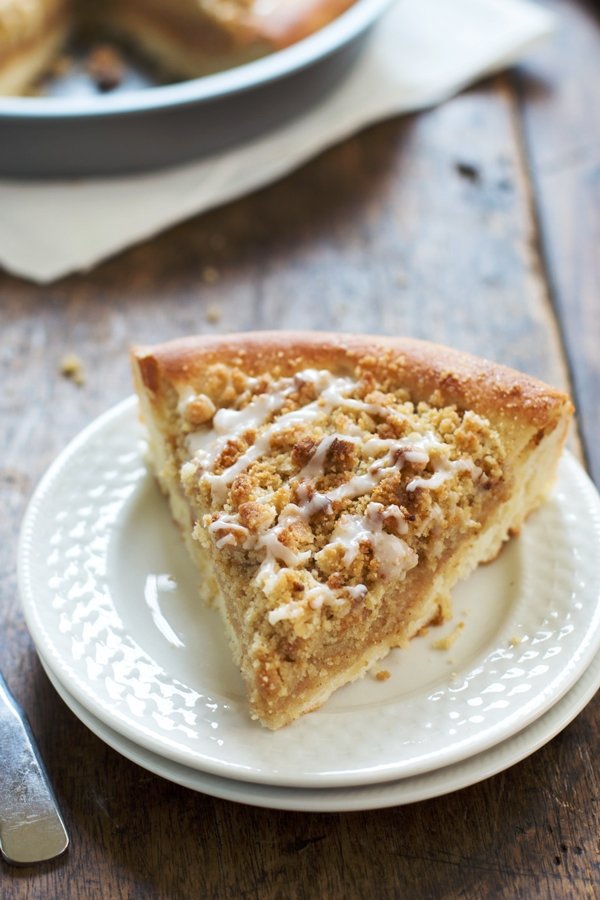 This treat is perfect for when you're not craving chocolate, but aren't in the mood for fruit either. It's the perfect balance. Your stomach will be thankful for a bite.
Ingredients:
Pizza dough
Cinnamon sugar
¾ cup + 2 tablespoons flour
⅓ cup brown sugar
¼ cup white sugar
2 tablespoons cold butter, cut into small pieces
2 tablespoons olive oil
¼ teaspoon salt
½ cup powdered sugar
1 tablespoon real maple syrup
1 tablespoon heavy cream
Instructions:
Preheat oven to 425F. Place dough in cake pan. Sprinkle lightly with cinnamon sugar. Pulse flour and sugar in food processor with butter and oil until they form crumbs. Sprinkle over dough. Bake for 10 minutes. Whisk powdered sugar, maple syrup, and heavy cream to drizzle over pizza.
---
3

S'mores Pizza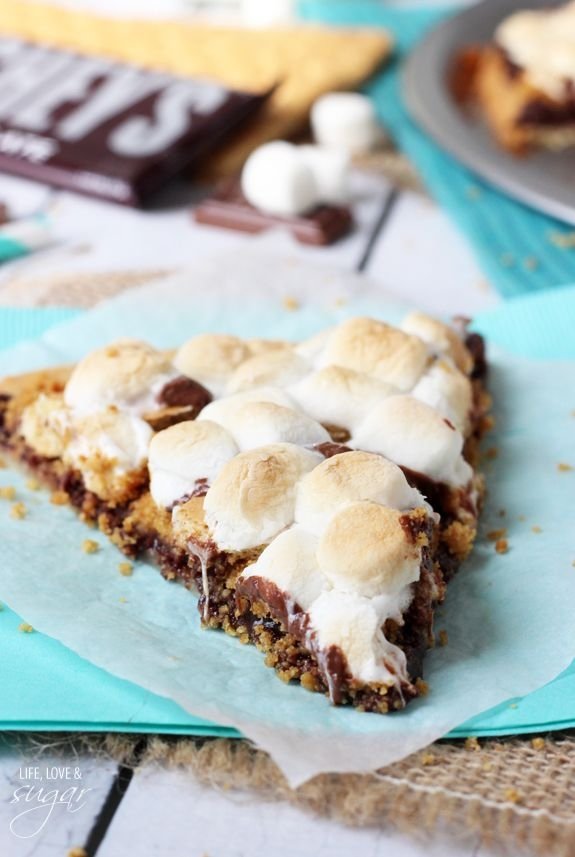 Eat a slice of this dessert pizza while watching movies with your friends. You'll feel like kids again, because you'll be so delighted by the simplest pleasures.
Ingredients:
2 x 1 -pound store-bought pizza-dough balls
1/4 cup slivered almonds
3 tablespoons unsalted butter
1 sleeve graham crackers, crushed (about 1 1/4 cups crumbs)
1/2 teaspoon chili powder
1/4 teaspoon cayenne pepper
1/4 teaspoon fine sea salt
3 cups mini marshmallows
2 x 4-ounce dark chocolate bars, broken into 1/4-inch chunks
Instructions:
Preheat oven to 400F. Form pizza, and bake for 5 minutes. Toast almonds over high heat in a dry skillet, then leave on plate to cool. Melt butter in skillet. Add graham crackers, chili powder, and cayenne pepper, and salt. Cook for 3 minutes. Top pizza crust with marshmallows and chocolate, then return to over for 4 minutes. Sprinkle graham cracker mix and almonds over pizza.
---
4

Brownie and Berry Pizza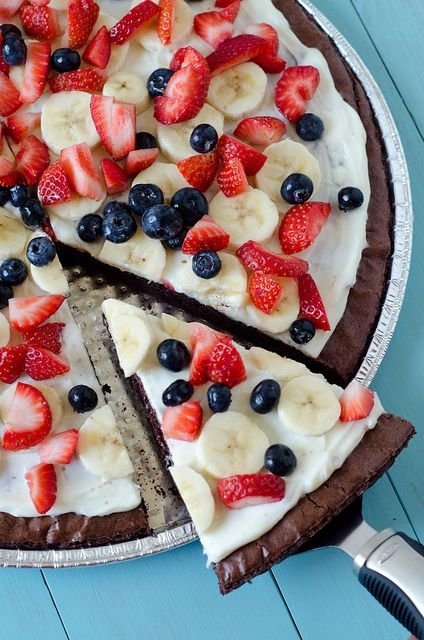 This is considered pizza, even though there's no dough involved. You can substitute it with brownie mix for some extra chocolatey flavor.
Ingredients:
1 box Betty Crocker Gluten Free brownie mix
Butter and eggs called for on brownie mix box
1 package (8 oz) cream cheese, softened
1/3 cup sugar
1/2 teaspoon vanilla
2 cups sliced fresh strawberries
1 cup fresh blueberries
1 cup fresh raspberries
1/2 cup apple jelly
Instructions:
Heat oven to 350F. Stir brownie mix, butter, and eggs. Spread in pan. Bake for 20 minutes. Cool for 1 hour. Beat cream cheese, sugar, vanilla until smooth. Spread mixture over brownie base. Arrange berries over mixture. Stir jelly until smooth and place over berries. Refrigerate for 1 hour, and cut into wedges.
---
5

Chocolate Chip Pizza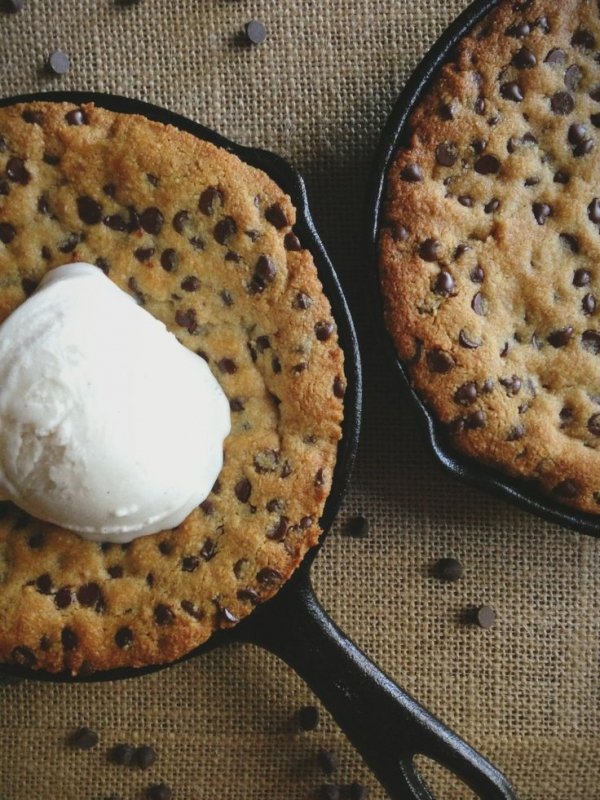 If you're a sucker for chocolate chips, this dessert will make your mouth water. As hard as it is, make sure to share some slices with your friends so that you don't eat the entire thing in one sitting.
Ingredients:
1 (11 ounce) refrigerated thin crust pizza dough
1 (15.25 ounce) yellow cake mix
1 cup butter (2 sticks), melted
1 1/2 cups semi-sweet chocolate chips
1/4 cup sugar
1/4 cup brown sugar
Instructions:
Preheat oven to 400F. Press pizza dough into pan. Bake for 3-4 minutes. Mix sugar in a bowl. Remove crust from oven, and mix cake mix to sprinkle over the crust. Sprinkle chocolate chips on top, then distribute sugar mixture. Cook for 7-12 minutes.
---
6

Fresh Fruit Pizza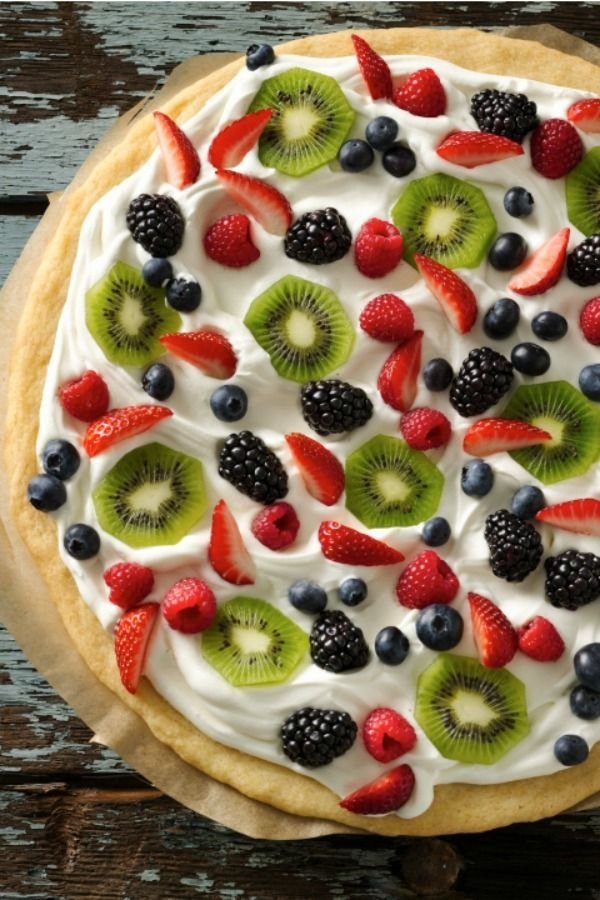 If you want to have a healthy snack, this is the pizza that will let you treat your taste buds with all of your favorite fruits. Whatever you like, you can use. It's all up to you.
Ingredients:
1 box Pillsbury refrigerated pie crusts, softened as directed on box
1 package (8 oz) cream cheese, softened
2 tablespoons milk
1/4 cup powdered sugar
1/2 teaspoon grated orange peel
2 to 3 cups assorted cut-up fresh fruit
Instructions:
Heat oven to 450F. Put crust in pan and bake for 9-11 minutes. Cool for 30 minutes. Beat cream cheese, milk, sugar, and orange peel until smooth. Spread mixture over crust. Arrange fruit on top of cream cheese mixture.
---
7

Chocolate Pizza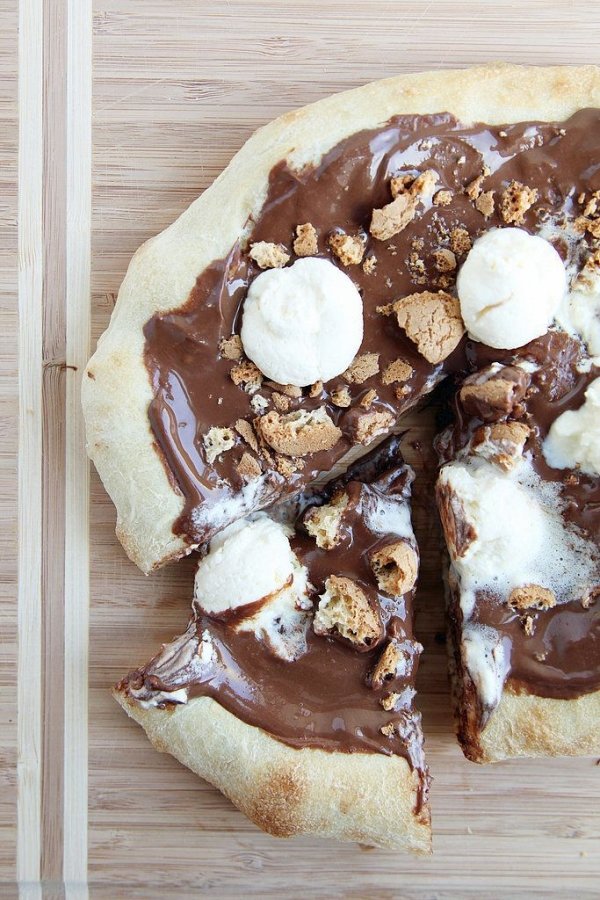 You can't go wrong with chocolate. When you're all out of options for a snack, whip this one up. You'll be eating it for days--unless you gulp it all down in one night.
Ingredients:
Pizza dough
2 tablespoons butter (1/4 stick), melted
1/4 cup chocolate-hazelnut spread (such as Nutella)
1/2 cup chopped bittersweet or semisweet chocolate
2 tablespoons chopped high-quality white chocolate (such as Lindt or Perugina)
2 tablespoons chopped toasted hazelnuts
Instructions:
Preheat oven to 450F. Bake dough for 20 minutes. Smooth chocolate-hazel spread over hot crust. Sprinkle chocolate over the top. Bake again until chocolate starts to melt. Sprinkle chopped hazelnuts over.
If you're not drooling over any of these snacks, then create your own recipe. Have you ever made a dessert pizza before? What did you put on it?
More