Share
I'm not much of a baker, but I do like a sweet treat now and then. That's why no-bake desserts are such a glorious creation. Not only do you get to indulge in something you love, but they won't even heat up the kitchen when it's hot outside. Try any of these no-bake desserts and you'll be the star of every party and gathering.
---
1

No-Bake Funfetti Cheesecake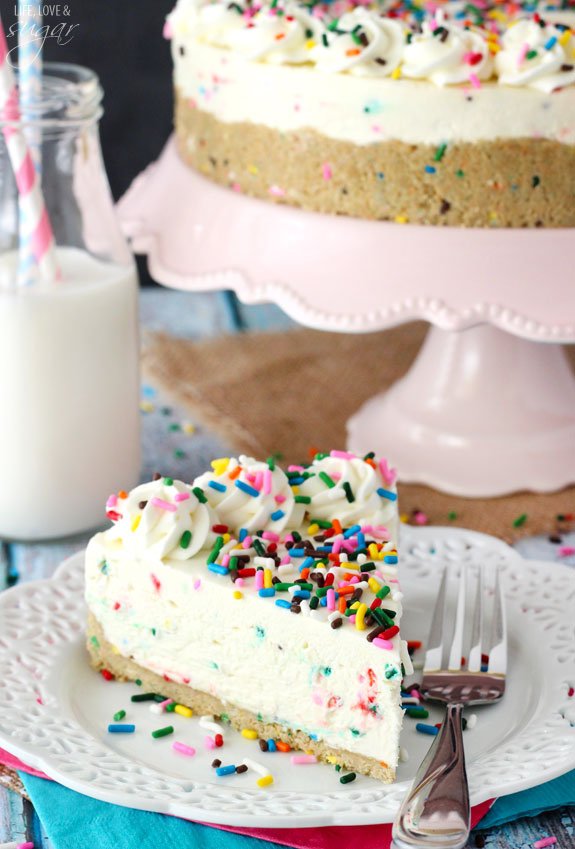 Here's a totally tasty and super festive way to celebrate any occasion. This is a dessert that both grown-ups and kids will love eating. Make lots because everyone is going to go wild for this one!
Ingredients:
2 ½ cups Golden Birthday Cake flavored Oreos
3 tablespoons melted butter
2 tablespoons sprinkles
24 ounces room temperature cream cheese
½ cup + 2 tablespoons sugar
2 tablespoons flour
2 teaspoons vanilla extract
1 ¼ teaspoon butter extract
1 ¼ teaspoon almond extract
3 tablespoons sprinkles (plus more for topping)
12 ounces Cool Whip, divided
Directions:
Mix together the Oreos, melted butter and sprinkles. Press halfway up the sides and along the bottom of a 9-inch springform pan. Chill. Mix the cream cheese with the sugar, flour and extracts in a large bowl. Fold in 8 ounces of the Cool Whip and the sprinkles. Spread the filling evenly over the crust. Chill for 4 to 6 hours, or until firm. Remove from pan and top with the rest of the Cool Whip and more sprinkles.
Source: lifeloveandsugar.com
---
2

No-Bake Mini Strawberry Pies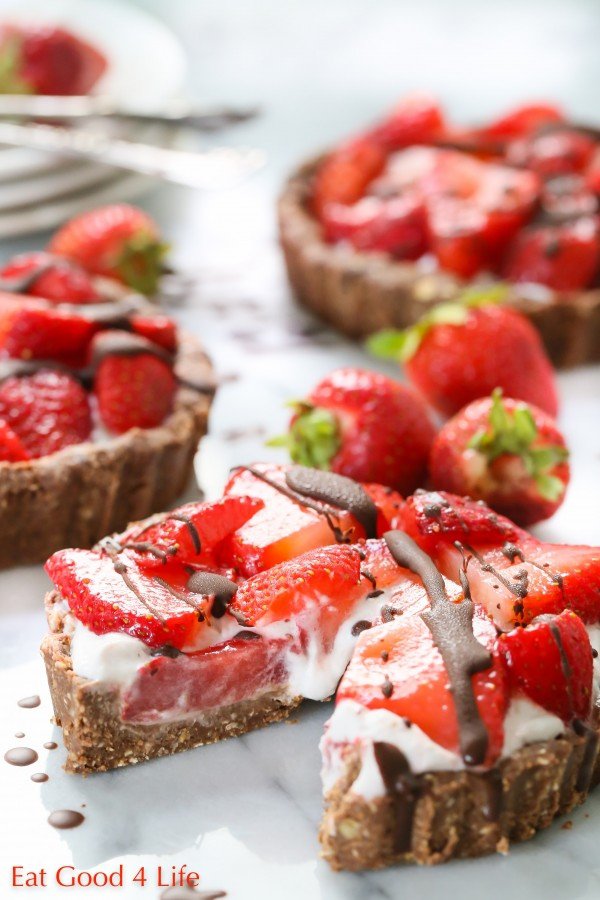 There's nothing better in the summer than strawberries, which makes this the ideal warm weather treat. Don't worry – you can still indulge in this even if it is cold outside. Either way, it's going to be delicious.
Ingredients:
3 tablespoons coconut oil
3 tablespoons cocoa powder
2 cups rolled oats
½ cup dates
¼ cup water
14 ounces coconut cream
¼ cup strawberry preserves
3 tablespoons maple syrup
1 pound sliced fresh strawberries
¼ cup chocolate chips
1 tablespoon coconut oil
Directions:
Pulse the coconut oil, cocoa powder, oats, dates and water in the food processor until well combined. Press the mixture into 5 small tart containers. In a bowl, combine the coconut cream, preserves and syrup with a whisk. Pour the mixture into the crusts and freeze for an hour. Microwave the chocolate chips and coconut oil in the microwave in 30 second intervals until smooth. Place the strawberries on top of the pies and drizzle with the chocolate.
Source: eatgood4life.com
---
3

Samoa Ice Cream Cake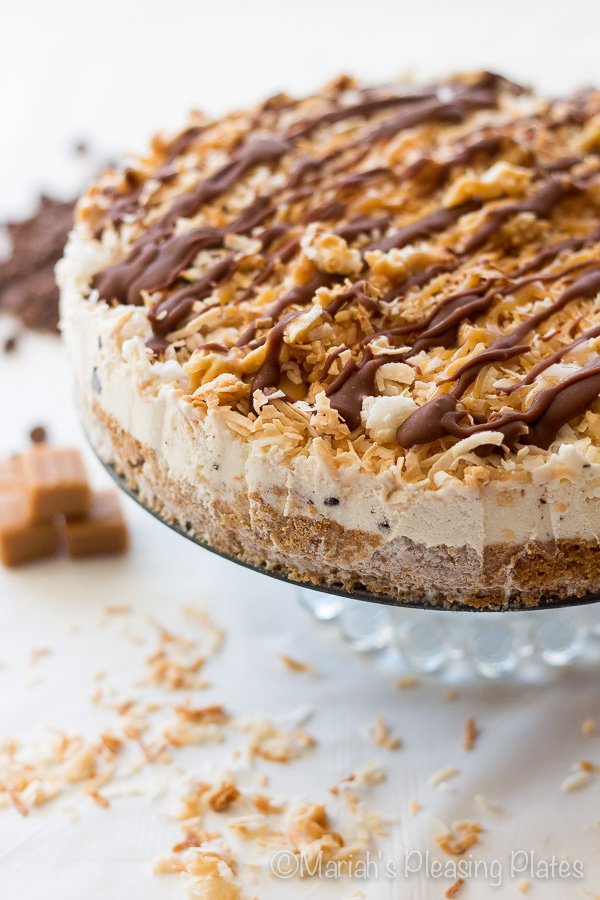 Hark back to your days of being a Girl Scout and make this delicious cake that combines the best flavors of coconut and chocolate. It's a no-bake treat that you won't be able to get enough of.
Ingredients:
1 ½ cups crushed cinnamon graham crackers
¼ teaspoon salt
2 tablespoons brown sugar
8 tablespoons melted butter
½ gallon slightly softened vanilla ice cream
2 cups toasted sweetened coconut
10 to 12 caramel candies
2 tablespoons sweetened condensed milk
1 cup chocolate chips
½ cup heavy cream
Directions:
Coat a 9-inch springform pan with cooking spray. Combine the graham crackers, salt and brown sugar in a bowl. Add the melted butter and stir. Press the crumbs into the greased pan. Freeze for one hour. Spread the ice cream over the crust and top with the coconut. Return to the freezer. Melt the caramels with the condensed milk in a microwave safe bowl until melted, working in 30 second intervals. Melt the chocolate. Drizzle the cake with the caramel and chocolate and return to the freezer until set, about 4 to 6 hours.
Source: mariahspleasingplates.com
---
4

Semifreddo with Honeyed Peaches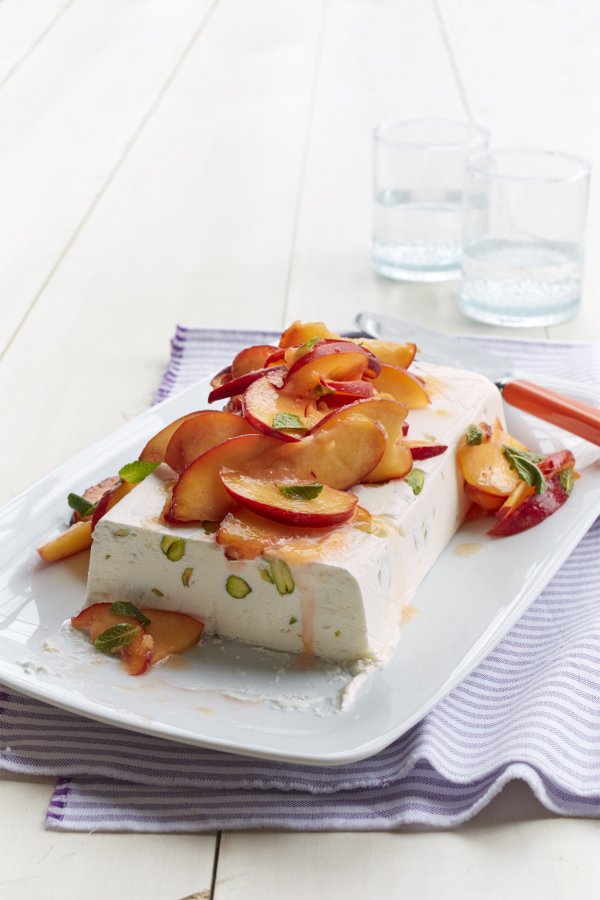 This recipe might sound a bit gourmet, but it's actually really easy to throw together. It's something really different and will make a great impression on your guests too. Plus, it tasted heavenly!
Ingredients:
8 ounces very cold crème fraiche
¼ cup confectioners' sugar
8 ounces very cold heavy cream
¼ cup shelled unsalted and chopped pistachios
2 tablespoons fresh lime juice
1 tablespoons honey
4 thinly sliced peaches
¼ cup fresh mint leaves
Directions:
Line a loaf pan with plastic wrap, letting it hang over on all sides. Beat the crème fraiche for about 2 minutes. Add the sugar and combine. Using the low speed, beat in the heavy cream, increase speed and beat until stiff peaks form. Fold in pistachios. Pour the mixture into the loaf pan. Freeze for 4 hours. Whisk together the lime juice and honey. Add the peaches and toss to coat. Allow to soak for about 5 minutes. Invert the semifreddo onto a serving dish and top with the peaches.
Source: womansday.com
---
5

No Bake Hot Cocoa Cake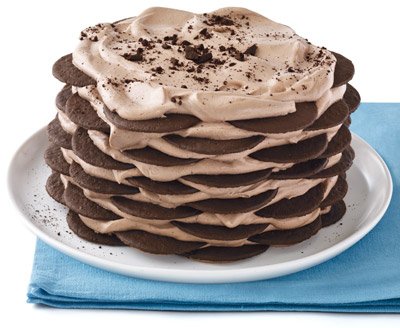 Can't get enough hot cocoa? You can still enjoy that yummy flavor even if it's hot outside. This no-bake treat will quickly become your new favorite.
Ingredients:
2 cups heavy cream
½ cup sour cream
½ cup confectioners' sugar
½ cup hot cocoa mix
1 teaspoon vanilla extract
¼ teaspoon salt
70 chocolate wafer cookies
Directions:
Place the heavy cream, sour cream, sugar, cocoa mix, vanilla and salt in a bowl and beat on high with an electric blender until stiff peaks form. Place a small bit of the cream on 7 cookies, arranging the cookies to cover the bottom of a serving platter. Spread ½ cup of the cream mixture over all of the cookies. Repeat this with 10 layers of 7 cookies each. Top with the remaining cream. Chill for at least 2 hours.
Source: womansday.com
---
6

Berry Shortcakes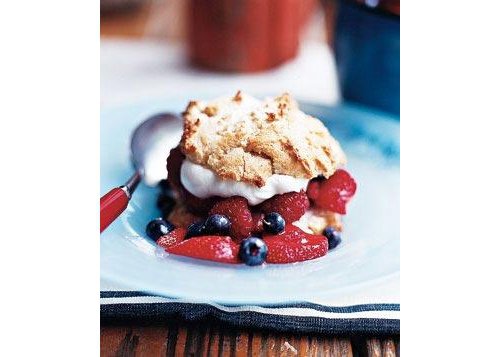 This refreshing and delicious treat requires no baking, but comes out tasty every single time. Nothing could be easier than this so add it to your repertoire right now. You won't be sorry!
Ingredients:
2 pounds fresh berries
1/3 cup + 2 tablespoons sugar
1 cup heavy cream
8 store-bought biscuits
Directions:
Toss the berries with 1/3 cup of sugar to coat. Let stand for 15 minutes. Beat the cream with the rest of the sugar to form soft peaks. Cut the biscuits in half and top each bottom with an even amount of berries and cream. Top with the remaining biscuit halves.
Source: realsimple.com
---
7

Limoncello Freeze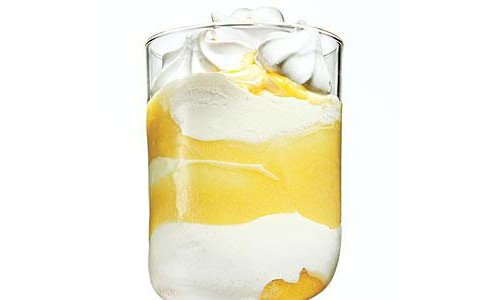 This super fast and simple dessert is one you'll never get tired of eating. It has the perfect summer flavor and will impress anyone at the table.
Ingredients:
¼ cup lemon curd
2 ½ tablespoons limoncello
2 cups vanilla ice cream
4 crushed vanilla meringue cookies
Directions:
Whisk the lemon curd and limoncello in a bowl to combine. Add the ice cream and stir. Divide the mixture into 4 bowls and top with the crushed cookies.
Source: myrecipes.com
Which one do you want to try first?
More