Share
Who doesn't love a good cupcake! They have become so popular within the last few years that they have their own TV shows like "Cupcake Wars" , "DC Cupcakes", and "The Cupcake Girls". I have also seen them on many bridal blogs for weddings, bridal showers, and even baby showers. But what I have never seen before is aCup-O-Cake™, which is why I wanted to share with you a little bit more about Charmaine's Cupcakesand the woman, Charmaine, behind the incredibly smart Cup-O-Cake™ idea!
---
1

How Did Your Company Begin, What Made You Want to Be in the Baking Industry?

I started baking cupcakes in November 2009 after coming across some photos in a magazine and deciding to try something different to give to the guests of my youngest sons christening. I spent the next 11 months making cupcakes for family and friends until one day someone asked me to make them for her parents, that's when I thought "I could make a living from this" so in October 2010 I made my first batch of cupcakes for Charmaine's Cupcakes.
---
2

Do You Get a Lot of Wedding and Bridal Shower Events?

When I first set up I was not confident enough to make wedding cupcakes as I feel a bride & groom deserve perfection for their special day but as I continued to teach myself the skills of baking, frosting and decorating my confidence grew. Earlier this year I decided to add wedding cupcake towers to my collection and I immediately starting getting bookings – in fact I have 5 weddings in the next 3 weeks!
---
3

What Type of Event do You Bake for the Most?

I have baked for many different types of events from corporate meetings to Ann Summers parties to the V Festivals VIP Louder Lounge but the majority of my cupcakes are baked for birthdays. I offer beautifully decorated, bespoke Giant Cupcakes which are particularly popular as an alternative to a traditional birthday cake.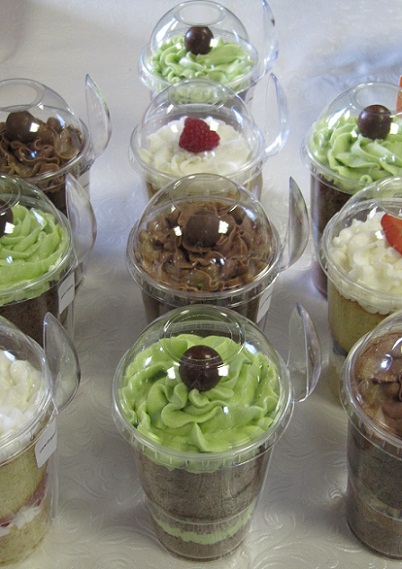 ---
4

How Did You Come up with the Cup-o-cake Design?

The Cup-O-Cake™ concept was born one evening after I had spent a few days considering the best ways to send cupcakes by mail. Whilst I was thinking of alternative containers the idea of creating a portable, no mess cupcake just popped into my head. I kept the idea to myself until I had visited the wholesalers the next day and found the perfect container to house my Cup-O-Cakes™ complete with attached spoon, then I trialled it on my family who absolutely loved it which gave me the confidence to trial it on the public. After some changes made to size and proportions I launched the Cup-O-Cake™ at a street fair on 3rd July 2011 – we sold out in less than 40 minutes!!
---
5

What is Your Favourite Item in Your Collection?

The Cup-O-Cake™ – I am totally in love with the entire concept and taste. It's not a novelty item; it's a versatile, convenient and totally practical solution to all the issues that eating cupcakes presents. No more sticky fingers or crumbs, the advantage of being able to eat some now, eat some later and it can be 'eaten on the go' which is so valuable for today's hectic lifestyle.
Continue Reading...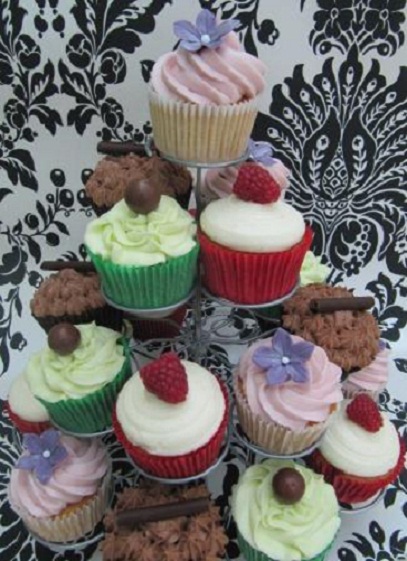 ---
6

Who Helps You Bake at the Business?

I am married and have 4 children aged 17, 15, 4 and 2 – everybody plays their part! My husband and older children have all been taught to bake and frost and my 17 year old son can even make certain pieces of sugar craft, the younger children are official taste testers!
---
7

What is the Funniest Theme Cake or Cupcake You Were Requested to Make?

Making sugar craft toppers for an Ann Summers party was quite amusing but probably my most unusual request has been for 120 sheep cupcakes for a wedding – the bride had a rural upbringing and felt it was really appropriate for her, she kept the sheep a surprise for her guests who were met with a whole 'flock' when they entered the reception.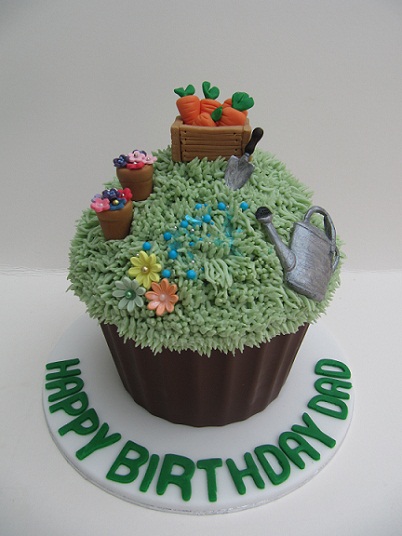 ---
8

Where do You Find Your Inspiration from?

Before I started the business I worked at a local community charity for 9 years, in fact it was due to my hours being cut from 30 to 4 a week on return from having my youngest child that prompted a need for additional income. Within my role as deputy manager I had to think 'outside of the box' to secure funding and to support members of the public and so I would say that anything and everything is inspiring when you open your mind, I create what I like in the hope others will like it too.
---
9

What is the Most Popular Flavour of Cake or Cupcake?

Chocolate! I offer a range of flavours and even a lower fat, gluten free Cup-O-Cake™ 'Lite' in an attempt to meet the needs of a wider audience but at the end of the day people like to feel that they have indulged in a treat for themselves so I always sell out of chocolate first at events.
FURTHER INFORMATION...
V Festival opportunity:- Immediately after the launch of the Cup-O-Cake™ I saw a link to a competition with Virgin Media Pioneersthat offered the opportunity of providing VIP's, press and hand-picked Virgin guests with our Cup-O-Cakes™ within the V Festival, invitation only Louder Lounge. We made the 3 hour journey to London to pitch the idea and was fortunately enough to be 1 of the 3 'winners' to go to the Louder Lounge on 20th-21st August where celebrities such as Rupert Grint (Ron from Harry Potter), X Factor winners Alexandra Burke and Joe McElderry and the cast from The Only Way is Essex (hit UK show) sampled and loved our Cup-O-Cakes™. Following from this we have already been booked by the cast of The Only Way is Essex for a launch party which will be packed with celebrities and press and also may be televised. We also have had our photo with Rupert Grint in Issue 792 of the OK! Magazine.

Mirror Newspaper:- Due to the support of Virgin Media's PR company Beige, we were fortunately enough to have a few newspaper articles printed about our V Festival experience but we were also interviewed for an article about the business for the Daily Mirror newspaper that was printed on 18th August 2011 - https://www.mirror.co.uk/advice/jobs/2011/08/18/mum-cooks-up-a-new-business-115875-23351338/

In the Top Photo Charmaine is at the V Festival with the UK X Factor winner Alexandra Burke!

We're so thrilled here at All Women Stalk to get to know people across the world and share with our readers the amazing details and background of the people we meet. We wish Charmaine all the success and hope that you will stop by to order from her if you are in the UK and if you are elsewhere take a moment to say hello on her facebookor twitter!
More