There are countless things to decorate cupcakes with, but if you're anything like me you can't for the life of you think of any when you need them. That's why I've collected this list of great ideas for you. This list is by no means exhaustive, but does put together a collection of fun and easy things to decorate cupcakes with. That means you aren't going to be hunting for strange items or getting frustrated with the finished product. Start with these, but feel free to clue me in to anything great that I haven't included.
1

Berries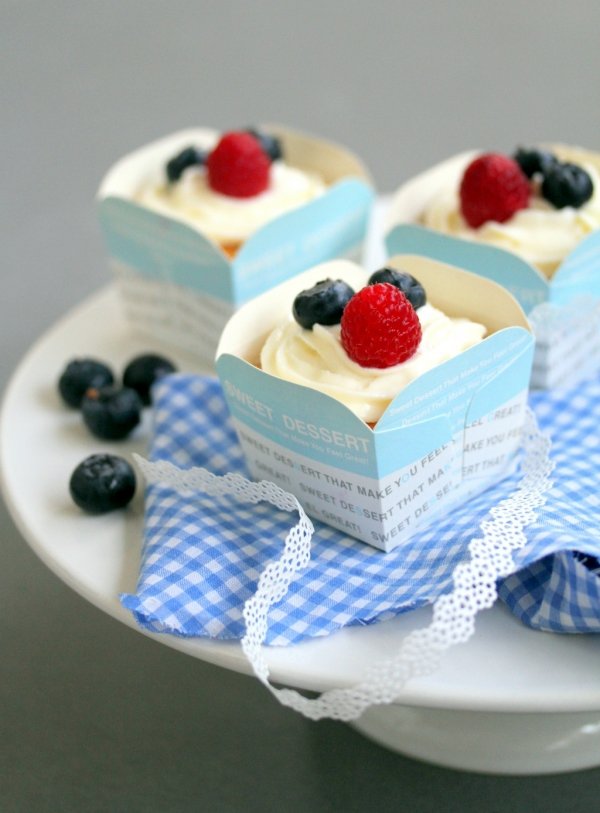 Not only are berries healthy, but they add a great pop of color to your cupcakes. You can use a mixture of them, or stick to one variety. I like blueberries and raspberries on white frosting for the 4th of July. Berries are in season during the summer and they make a batch of cupcakes look so festive and delicious. Use strawberries for a pink birthday party or blueberries for a boy baby shower. Great taste and a beautiful presentation make berries one of the best things to decorate cupcakes with.
2

Fudge Sauce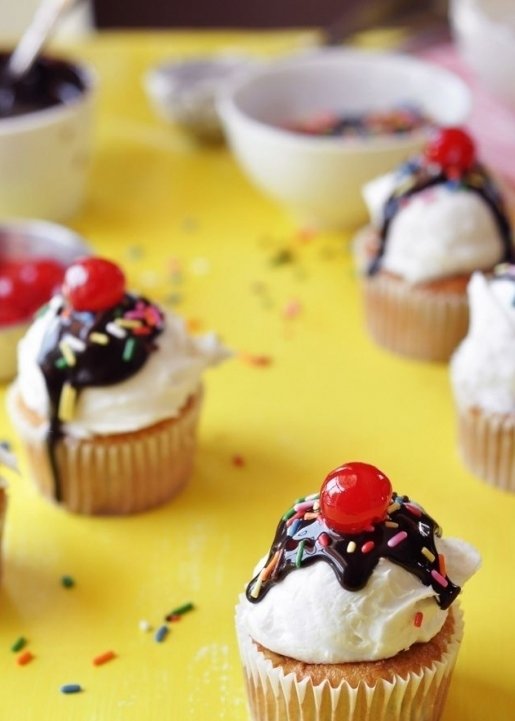 You know how good an ice cream sundae looks dripping with hot fudge, so why not drizzle it on your cupcakes. This is a great choice for an elegant looking treat that still tastes heavenly. Try chocolate cupcakes with white icing so the fudge stands out and makes your guests' mouths water.
3

Nuts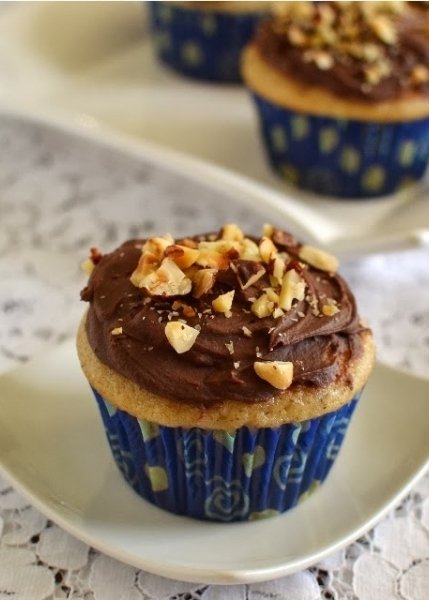 Nuts are a wonderful complement to the sweetness of a cupcake and nothing could be easier than sprinkling them on the frosting. Your best bet is to chop the nuts before you use them so they stick easier and so people don't get a bite full of a huge nut. Peanuts, cashews, walnuts and pistachios are great choices and each tastes yummy paired with many flavors of cupcakes.
4

M & M's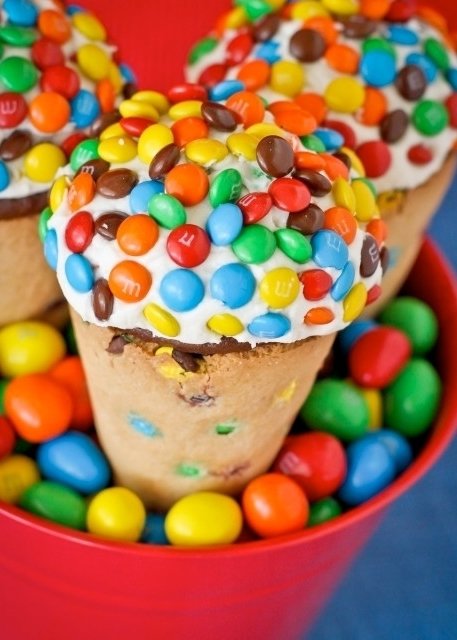 Everyone loves this perfect little candy, so they make a great choice for cupcakes. You can do so many things with them too. Try creating bugs out of several lined up or use them to mimic the look of Lego. You can also color code the M & M's based on the color scheme of your event. Use them for baby showers, weddings, birthday parties and holiday events. You simply can't go wrong.
5

Candy Chips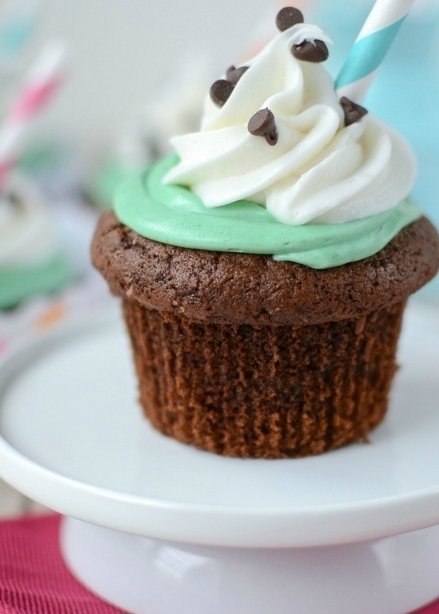 I'm talking chocolate, butterscotch or peanut butter chips. They add a nice crunch to cupcakes and also give them a tasty flavor boost too. You can pair them with any color of frosting and any flavor of cupcake, so go ahead and mix and match them however you want to for a cupcake that will leave everyone wanting more.
6

Ice Cream Cones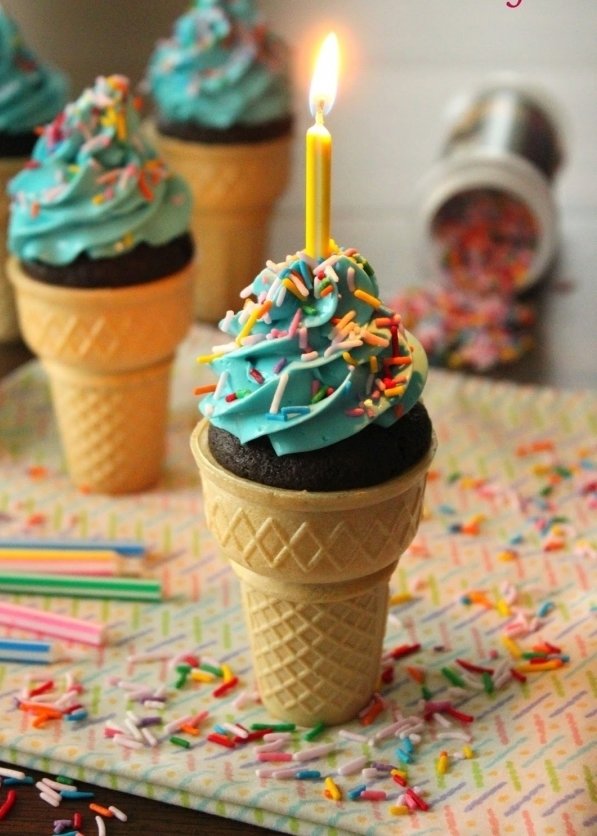 Stay with me here. Before you bake your cupcakes, place an upside down cake cone on each. When they're finished, you can grab the cone, turn them over and eat them. You can also add frosting on the bottom if you want to. This is a fun way to make portable cupcakes for a picnic or a backyard birthday party. Kids love to gobble the cone and the cupcake in one treat.
7

Fondant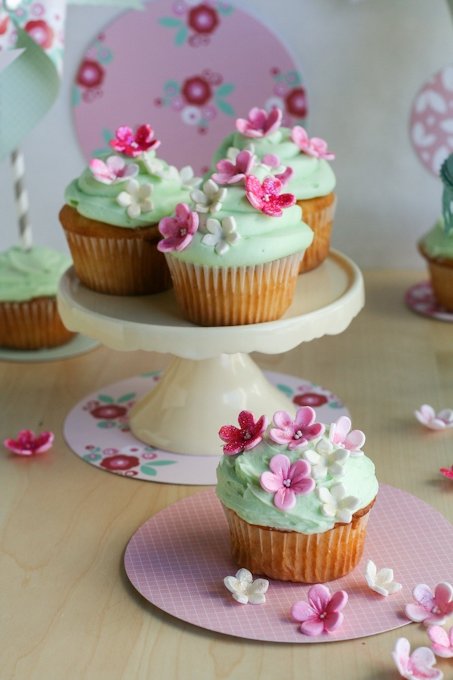 Of course you've heard of fondant for cakes, but you can also use it to decorate cupcakes. It's great for cutting out smaller shapes or making customized decorations that you can't find at the store. Fondant is also edible so your guests can eat the décor as well as the cupcake. Everyone will love that! Use fondant to create cartoon characters, numbers, letters or virtually anything you can dream up.
What's your most memorable cupcake? Did you make it yourself or simply indulge after someone else's effort?