Share
If you're a chocolate lover, dessert tacos are a great way to fulfill your cravings. As long as you can manage to form and bake the shell, the rest is easy. All it takes is a little time. Here are some of the most delicious dessert tacos out there:
---
1

Chocolate Tacos with Ice Cream and Peanuts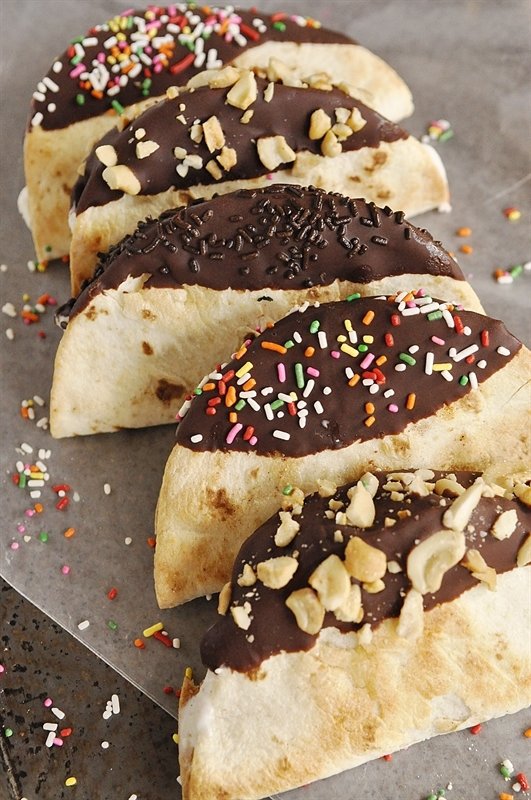 You don't want to lose the recipe for these dessert tacos. How could you go wrong with a chocolate shell, vanilla ice-cream, and some peanuts? It's pure deliciousness.
Ingredients:
1/2 cup powdered sugar
1 ounce of all-purpose flour (about 1/4 cup)
3 tablespoons unsweetened cocoa
1 teaspoon cornstarch
1/4 teaspoon salt
3 tablespoons egg whites
1 teaspoon 2% reduced-fat milk
1/4 teaspoon vanilla extract
Cooking spray
1/2 cup semisweet chocolate chips
1 teaspoon canola oil
1/2 cup finely chopped unsalted, dry-roasted peanuts, divided
2 2/3 cups vanilla low-fat ice cream
Instructions:
Preheat oven to 400F. Combine powdered sugar, flour, cocoa, cornstarch, and salt. Stir in egg whites, milk, and vanilla. Spoon 1 tablespoon of batter onto baking sheet. Repeat four times in different areas. Bake for 6 minutes and remove from baking sheet. Drape each taco over a suspended wooden spoon, shaping into a shell. Let cool. Combine chocolate chips and place in microwave until melted. Spread mixture onto cooled shells. Sprinkle with peanuts. Spoon ice cream into each shell. Freeze for 30 minutes.
---
2

Ultimate Dessert Taco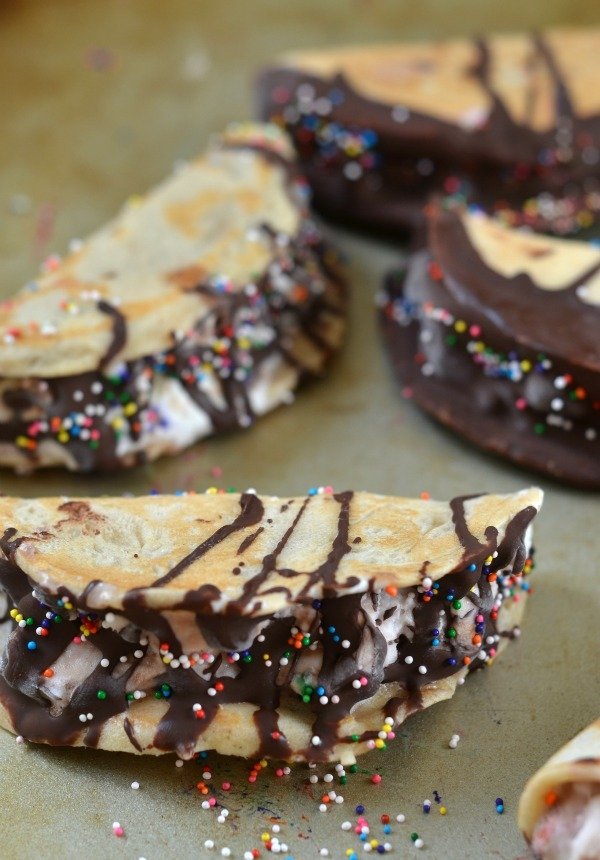 If you're in the mood for chocolate, but don't want to overdo it, skip the chocolate shell. This recipe gives you a cinnamon sugar shell with just a bit of chocolate sauce drizzled over the top. It's just the right amount of richness.
Ingredients:
1 quart favorite ice cream (I used chocolate chip)
1 cup crushed cornflakes
1 cup vanilla wafer crumbs
2 eggs
2 tbsp sugar
Vegetable oil
1/4 cup chocolate chips
1/2 tbsp shortening
1 tsp cinnamon
3 tbsp sugar
6 corn tortillas
1 tbsp butter, melted
Chocolate sauce
Whipped cream
Instructions:
Freeze 6 scoops of ice-cream on a waxed paper lined sheet for 2 hours. In a small bowl, mix together cookie crumbs and cornflakes, then roll ice-cream into the mixture. Freeze for 30 minutes. In a bowl, beat eggs and 2 tbsp sugar. Dip ice-cream scoops in egg, then again in crumb mixture. Freeze for 1 hour. Brush tortillas with melted butter. Combine cinnamon and 3 tbsp sugar to sprinkle tortillas with. Toast tortillas at 400F for 3-5 minutes. Microwave chocolate chips in a small bowl until melted. Dip shells in chocolate. Heat vegetable oil in a large pot and lower scoops into oil for 30 seconds apiece. Fill tortillas with fried ice-cream. Drizzle with chocolate sauce and whipped cream.
---
3

Fruity Dessert Taco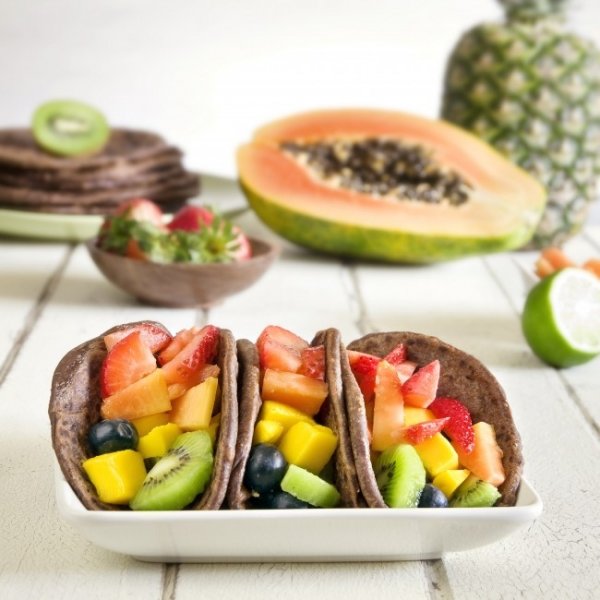 You don't have to ignore your fridge full of fruit, because strawberries and pineapples go well with chocolate. By stuffing the shell with healthy foods, you'll feel better about indulging in your new snack.
Ingredients:
1/2 cup cubed fresh pineapple
1/2 cup sliced peeled kiwi fruit
1/2 cup sliced fresh strawberries
3 teaspoons sugar, divided
1 teaspoon chopped seeded jalapeno pepper, optional
1/2 teaspoon ground cinnamon
2 whole wheat tortilla (8 inches), room temperature
Butter-flavored cooking spray
Chocolate sauce
Instructions:
In a small bowl, combine pineapple, kiwi fruit, strawberries, 1 teaspoon sugar, and jalapeño. Combine cinnamon and remaining sugar. Spray both sides of tortilla with cooking spray and heat for 1 minute or until golden brown. Sprinkle both sides with cinnamon sugar mixture. Place fruit inside of each tortilla. Drizzle with chocolate sauce.
---
4

Taco Rack Ice Cream Dessert Taco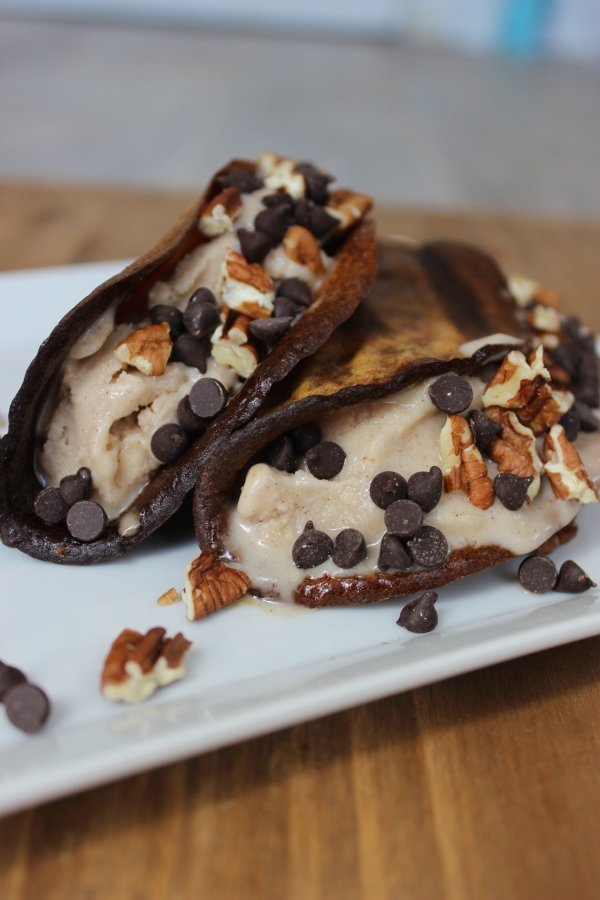 This taco is way easier to make than it looks. All it really consists of is a shell, ice cream, and some toppings. You should already have all the ingredients you need to whip up this treat.
Ingredients:
1- Half gallon of your favorite ice cream
1- Cup of chocolate morsels for melting
½- Cup of maraschino cherries
I- Can of Redi-Whip
2- kiwis
1- Cup of your favorite dessert toppings (chocolate chips, crushed Oreos, M&M's, Sprinkles,
1- Box of hard taco shells
1- "Taco Rack Sr." Available at TacoRack.com
1- cookie sheet or flat tray
Instructions:
Melt the chocolate morsels on a low heat. Preheat the oven to 350F. Set a Taco Rack on a cookie sheet and put shells into slots. Cook for 7-9 minutes. Coat the inside of each shell with the melted chocolate. Freeze until chocolate hardens. Spoon in ice cream until one-half to three-quarters full. Top ice-cream with whipped cream and chocolate syrup.
---
5

Brownie Dessert Taco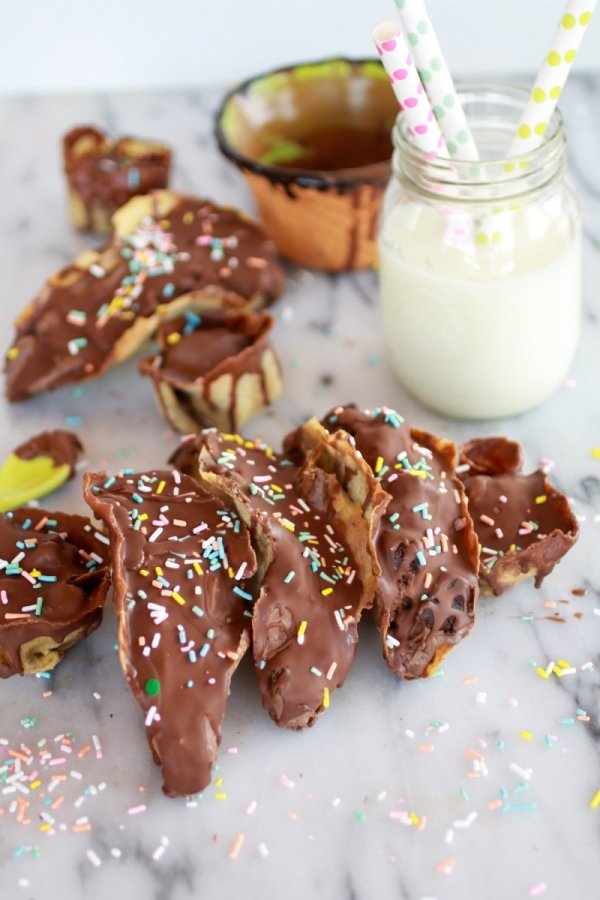 Not in the mood for ice cream? Well, you can fill your tacos with something else chocolatey. If you have a box of brownie mix, you might as well make it to serve with your shells.
Ingredients:
1 box (17.6 oz) turtle brownie mix
1/4 cup water
1/4 cup vegetable oil
1 egg
1 box (4.6 oz) Old El Paso white corn taco shells
1/2 cup frozen (thawed) whipped topping
1/4 cup toasted pecan pieces
1/4 cup caramel sauce
Instructions:
Heat oven to 350F. Make brownies as directed on box and cut into 24 rectangles. Place taco shells in microwave for 45 seconds or until warm. Place 2 brownies in each taco shell, then top with whipped creams, pecans and caramel sauce.
---
6

Chocolate Dessert Taco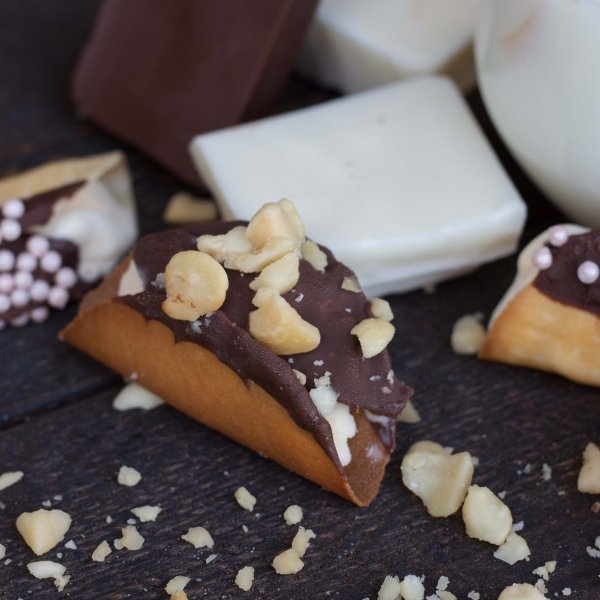 There are so many different varieties of dessert tacos, that it's hard to choose one to try. However, this one never disappoints. It's better than you'd think.
Ingredients:
1 tablespoon sugar
1/4 teaspoon ground cinnamon
4 (8-inch) flour tortillas
1 tablespoon butter, melted
2 cups chocolate ice cream
2 kiwifruit, peeled and cut into strips
1 pint strawberries, sliced
1 cup frozen whipped topping, thawed
Instructions:
Combine sugar and cinnamon. Brush tortillas with butter and sprinkle sugar mixture over them. Bake shells at 350F for 10 minutes. Remove and fill evenly with chocolate ice-cream, kiwi fruit, and strawberries. Top with whipped cream or sprinkles.
---
7

Dessert Taco by Betty Crocker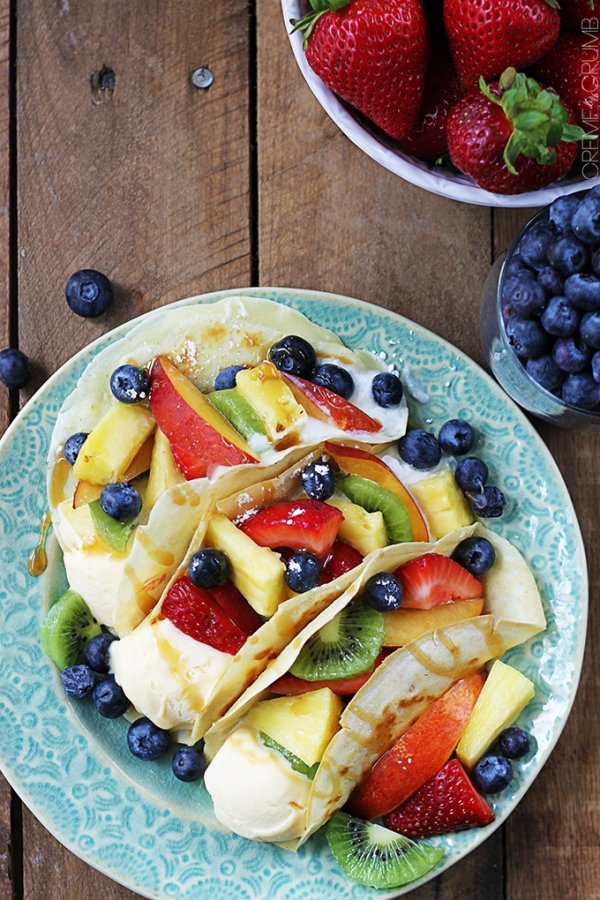 Has Betty Crocker ever steered you wrong before? With a name like that attached to this treat, you know it has to be good. It's guaranteed.
Ingredients:
6 Old El Paso Stand 'N Stuff taco shells (from 4.7-oz box)
1 cup chopped drained canned peaches
1 cup chopped drained canned pineapple
3/4 cup fresh blackberries
2/3 cup fresh blueberries
12 medium fresh strawberries, sliced
2 medium bananas, sliced
6 rectangles (4x1x1 inch each) vanilla ice cream, cut from 1/2-gallon brick (about 3 cups)
1/2 cup chocolate or caramel ice cream topping
1 cup whipped cream
1/2 cup chopped nuts (any variety)
Instructions:
Heat oven to 325F and heat shells as directed on box. In a large bowl, mix the fruit. Remove cardboard from ice-cream. Cut into 6 rectangles. Place 1 rectangle of ice-cream in the bottom of each taco shell and divide fruit over ice-cream. Drizzle chocolate sauce over fruit and top with whipped cream and nuts.
Don't lounge around all day when you could be busy whipping up new treats. Have you ever made dessert tacos before? What did you put in them?
More