Share
If you need a dessert to bring to a party or just feel like whipping up something yummy, there are gooey brownie recipes you should test out. Anyone who tries them will beg for your help in the kitchen. Here are some of the best gooey brownie recipes that everyone will gobble up:
---
1

Twix Brownies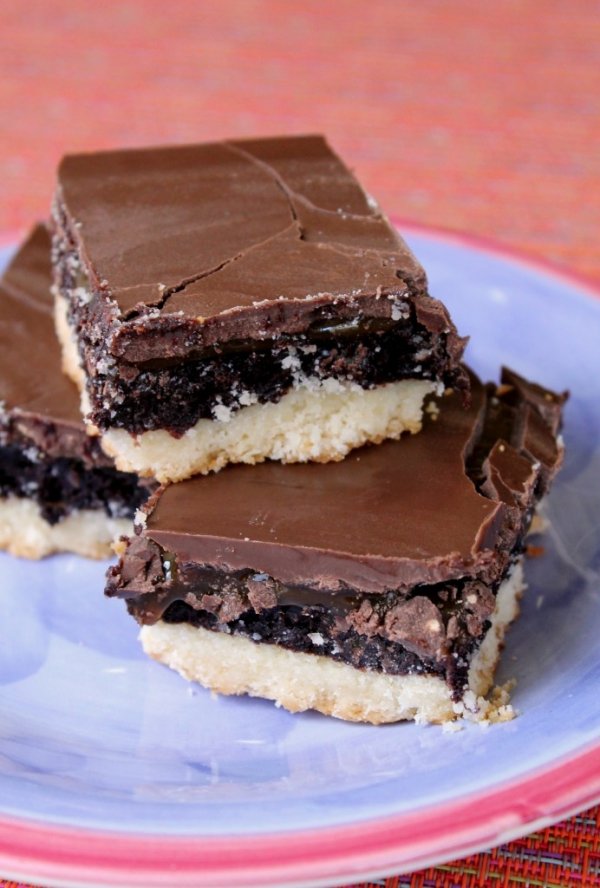 This is one of the gooey brownie recipes for chocolate lovers. If you have a sweet tooth, then you'll love the combination of chocolate brownies and Twix pieces. What's not to love?
Ingredients:
4 ounces unsweetened chocolate; coarsely chopped
3/4 cup unsalted butter, cut into cubes
1 1/4 cups sugar
3 large eggs
1 teaspoon pure vanilla extract
1/4 teaspoon salt
1 cup all-purpose flour
12 Fun Size Twix Bars, each cut into thirds
Directions:
Microwave the chocolate and butter until the former is melted. Add the remaining ingredients, and whisk. Bake for 30 minutes at 350 degrees.
Source: mybakingaddiction.com
---
2

Oreo Brownies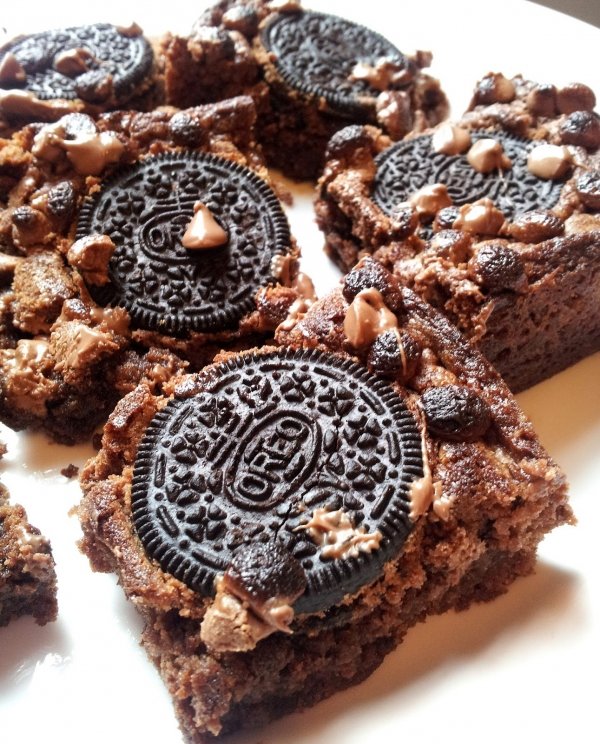 The best way to become an awesome chef is to experiment. That's why you should throw Oreos, or any type of cookies, into your brownie mix. The more adventurous, the better.
Ingredients:
2 boxes of brownie mix (+ ingredients on the box)
1 package of Oreos
13x9 pan
Directions:
Mix brownies according to the package. Pour half the batter into the pan, layer the Oreos on top of it, and pour the other half of the batter over the layer of Oreos. Bake for 35 minutes at 345 degrees.
Source: iheartnaptime.net
---
3

Peanut Butter Truffle Brownies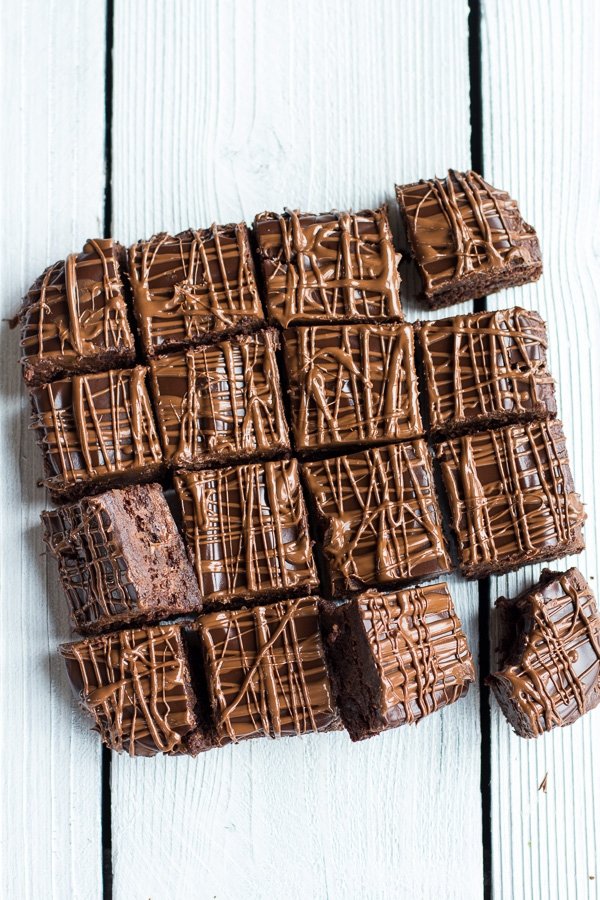 Peanut butter and chocolate taste amazing together, which is why everybody loves Reese's. You can't go wrong when you combine the two. Even if you don't think you'll like the taste, try it out, because you could end up loving it.
Ingredients:
1box (1 lb 2.4 oz) Betty Crocker Original Supreme Premium brownie mix
1/3 cup butter, softened
1/3 cup creamy peanut butter
1 1/3 cups powdered sugar
1 1/2 teaspoons milk
3/4 cup semisweet chocolate chips
3 tablespoons butter
Directions:
Make brownies as directed on box. Beat all of the filling ingredients (all above, except for the chocolate chips and butter) with a mixer until smooth. Spread evenly on the brownie base. Microwave the chocolate chips and butter to spread over filling. Refrigerate.
Source: bettycrocker.com
---
4

Mint Brownies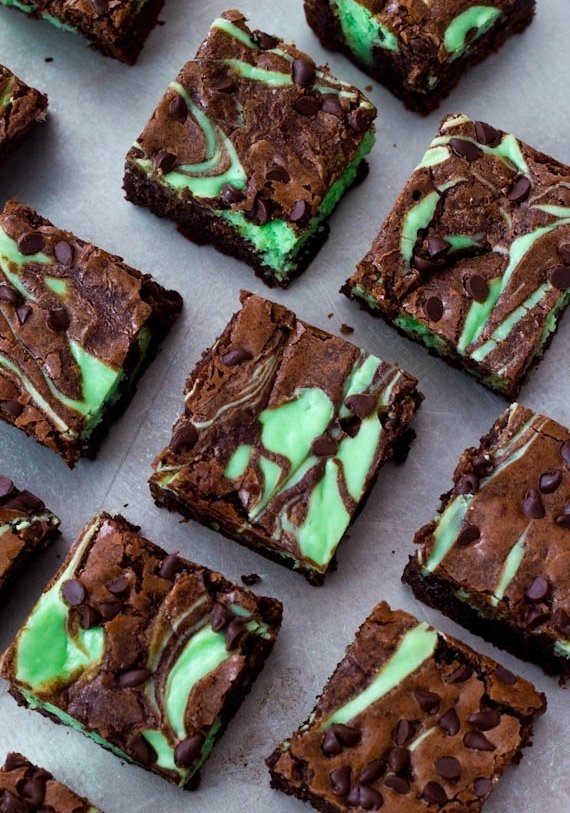 Do you want to add a fresh taste to your brownies? Mint is the way to go. You don't typically hear about mint brownies, so you'll surprise everyone when you put out a plate filled with them.
Ingredients:
1 box (1 lb 2.3 oz) fudge brownie mix
4 cups powdered sugar
1 package (3 oz) cream cheese, softened
1/4 cup butter or margarine, softened
1/4 cup milk
1 teaspoon vanilla
1/4 teaspoon peppermint extract
8 to 10 drops green food color
Directions:
Bake brownie mix as instructed on box, and let cool for one hour. In a large bowl, beat ingredients until smooth. Spread over cooled brownies.
Source: pillsbury.com
---
5

S'more Brownies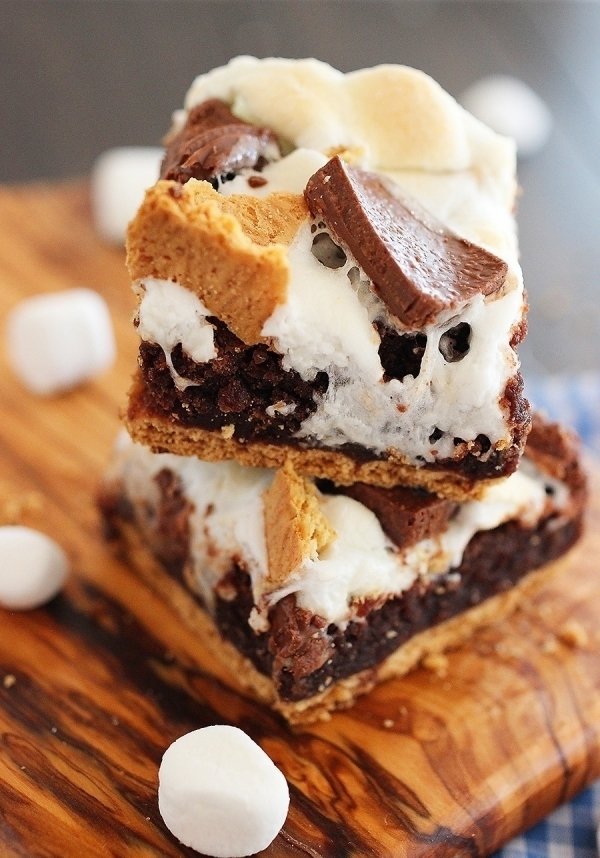 Is it too cold out to make s'mores by the fire? You don't have to go outside to create this delicious snack. You barely even have to cook them, because most of the work is in the mixing.
Ingredients:
10 graham crackers, crushed (about 2 1/4 cups)
1 1/2 cups mini marshmallows
3/4 cups chocolate chips
1 stick butter
3/4 cup sugar
1 large egg, beaten
1 teaspoon vanilla extract
Directions:
Mix graham cracker crumbs, marshmallows, and chocolate chips together in a mixing bowl. Melt the butter in a separate bowl, and add sugar, egg, and vanilla. Stir over heat until it thickens. Combine both mixtures. Press into pan and refrigerate for 30 minutes.
Source: yummly.com
---
6

Vanilla Brownies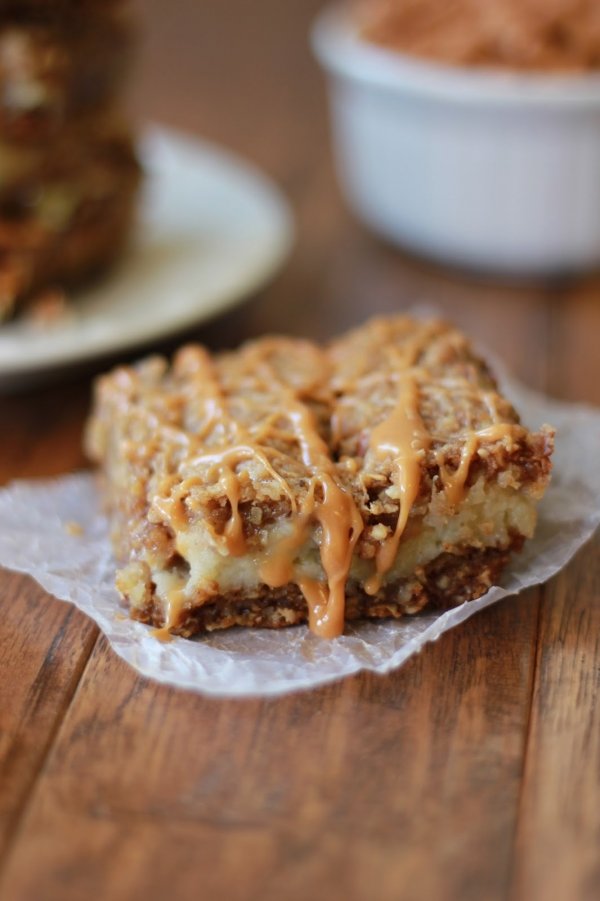 Who says brownies have to be chocolate? Vanilla is just as tasty, so don't rule it out. You might end up liking it more than the original recipes you've had in the past.
Ingredients:
2 1/4 cups all-purpose flour
2 1/2 teaspoons baking powder
1/2 teaspoon salt
3/4 cup unsalted butter, softened
1 1/4 cups white sugar
1 1/4 cups packed brown sugar
1 teaspoon vanilla extract
3 eggs
2 cups semisweet chocolate chips (optional)
Directions:
Combine flour, baking powder, and salt in one bowl. In another bowl, combine the butter with white sugar, brown sugar, and vanilla. Once it is smooth, beat in the eggs. Finally, add the flour mixture. Spread evenly onto a pan and bake for 35 minutes at 350 degrees.
Source: allrecipes.com
---
7

Chewy Peanut Butter Brownies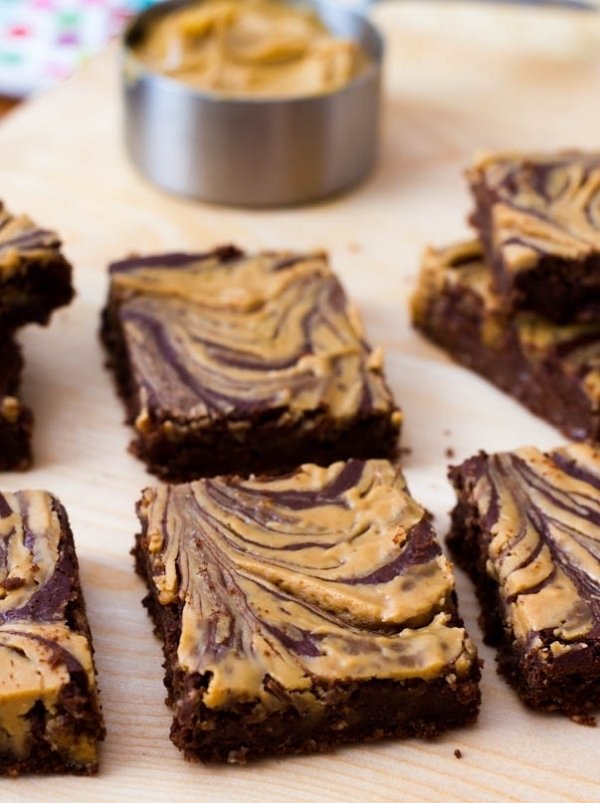 If you want your gooey brownies to be chewy brownies, add some peanut butter. It's a great way to spice up a regular recipe.
Ingredients:
1/2 cup peanut butter
1/3 cup margarine, softened
2/3 cup white sugar
1/2 cup packed brown sugar
2 egg
1/2 teaspoon vanilla extract
1 cup all-purpose flour
1 teaspoon baking powder
1/4 teaspoon salt
Directions:
Mix together peanut butter and margarine. Add the remaining ingredients until well blended. Bake for 30 minutes at 350 degrees.
Source: allrecipes.com
Once you bring a plate of these brownies to a party, everyone will be begging for your secret recipe. What's your favorite type of chocolate treat to chow down on?
More