Share
Pies are an excellent dessert for family gatherings, barbecues, picnics, or any other social event you encounter in the summertime. Most pies are relatively easy to make and some include only a few ingredients. I've listed 8 delicious pies to try this summer in the piece below. I hope you enjoy them and decide to try a few on your own!
---
8

Frozen Berry Pie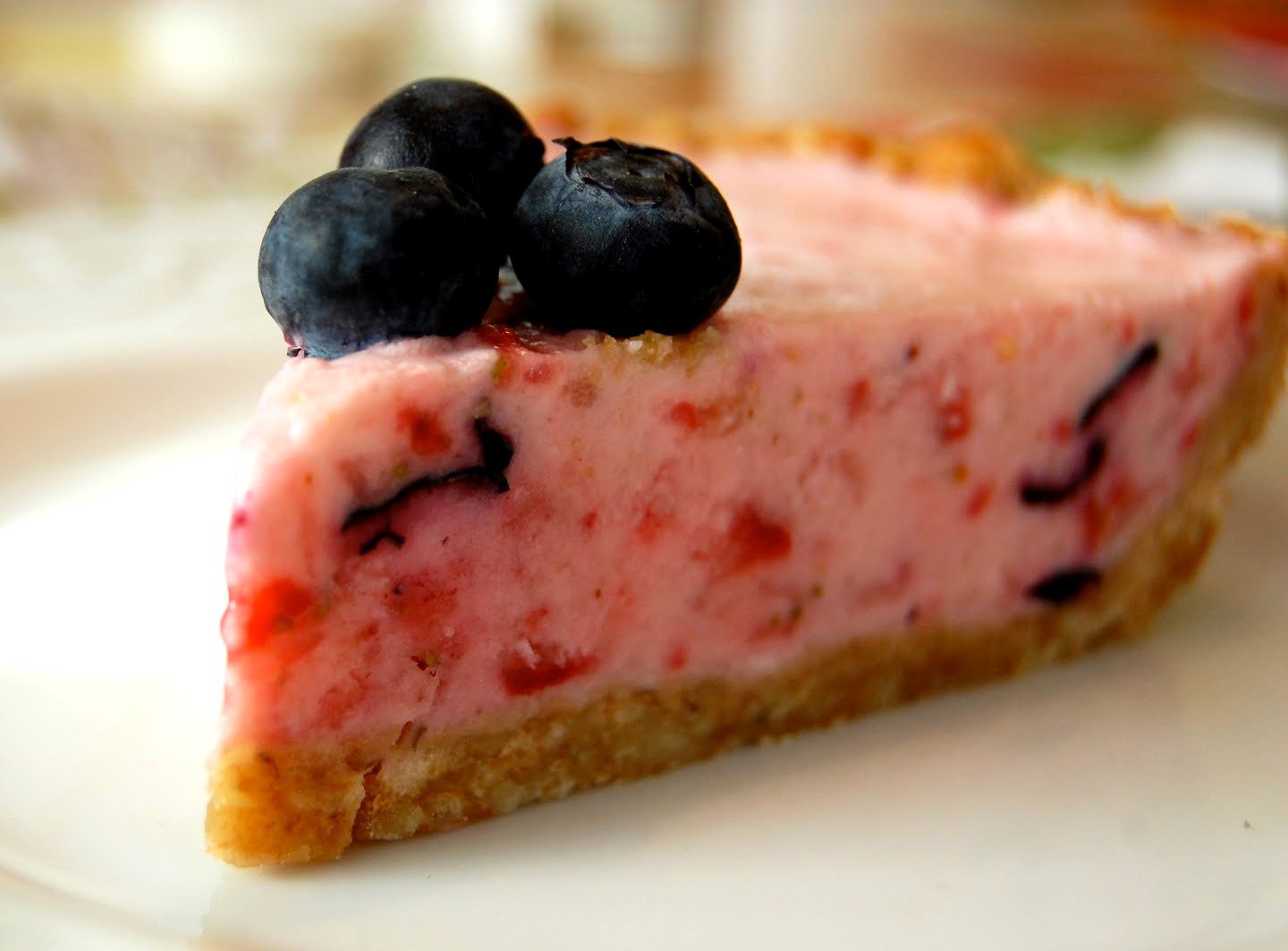 Photo Credit: acraftylass.blogspot.com
This pie is super simple and an excellent dessert for when you need to cool off during the high heat of the summer. Combine a 14 ounce can of sweetened condensed milk and 2 tablespoons of lemon juice. Once these are mixed together very well, stir in 2 cups of fresh berries. I like to mix blackberries and blueberries together. You can also toss in some raspberries to add a bit more color to the pie. Fold in an 8 ounce container of whipped topping that has been thawed and put everything in a crust. The crust should already be baked or you can use a graham cracker crust instead. Both are very yummy with this recipe. The pie will need to freeze for 5 hours until set and then allowed to sit at room temperature for about a half an hour before serving.
---
7

Tiramisu Toffee Trifle Pie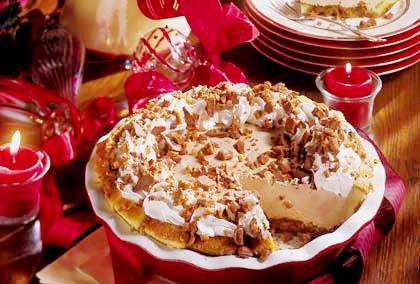 Photo Credit: myrecipes.com
I absolutely love Tiramisu and this pie is amazing. It is extremely rich and although there isn't a pie crust included with this particular dessert, it's still considered to be a pie. Just wait until you try it! Mix together three-fourths cup of warm water with one and a half tablespoons if instant coffee. Cut a pound cake so you have 14 slices and then cut each slice diagonally to get 28 triangles out of the entire cake. If you use a frozen cake, be sure to thaw it first. Line the triangles with the broader edge sticking up around the outside of the plate to make it look like pie crust. You'll have to fit the rest of the triangles between these and along the bottom of the pie pan. It's tricky! Drizzle the coffee over the cake and then mix the following ingredients together: 8 ounce package of mascarpone cheese, a half cup of chocolate syrup, and a half cup of powdered sugar. Blend these ingredients until smooth and add 2 and a half cups of whipped topping. Beat this mixture until fluffy. Evenly spread the cheese mixture over the cake first, and then gently pile on the whipped ingredients. Sprinkle the top of the pie with crushed up toffee pieces and chill for 8 hours.
---
6

Strawberry Pie

I like this super simple pie recipe for all occasions: Mix two small packages of strawberry-flavored gelatin with 1 and a half cups of boiling water. Add another cup and a half of cold water to the gelatin and stir in a small container of fresh strawberries. Place all of this in a baked pie crust and top with whipped cream. I've used both sliced and whole strawberries in this type of pie and both work fine.
---
5

Pineapple and Coconut Cream Pie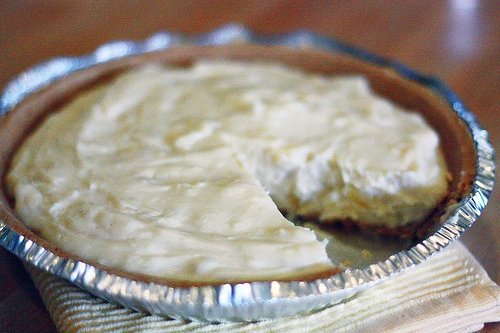 Photo Credit: Julie Hasson
Drain a can of crushed pineapple and place it on the bottom of a baked pie crust. Mix together three-fourths cup of sugar, a quarter teaspoon of salt, and a quarter cup of cornstarch in a pan with one and a half cups of milk in a sauce pan and bring it to a boil. Once boiling, cook the mixture for a minute while stirring constantly. In a bowl, beat two large eggs and slowly mix in a third cup of the hot custard mixture you just boiled. Add the egg mixture to the pan of hot custard mix and cook it until thick. Remove the pan from the stove and add in 2 tablespoons cream of coconut, a quarter teaspoon vanilla and coconut extract. Spoon the mixture into the pie crust and cover with plastic wrap before chilling for a couple of hours. Before serving, top with whipped cream and sprinkle with coconut flakes.
---
4

Oatmeal Pecan Pie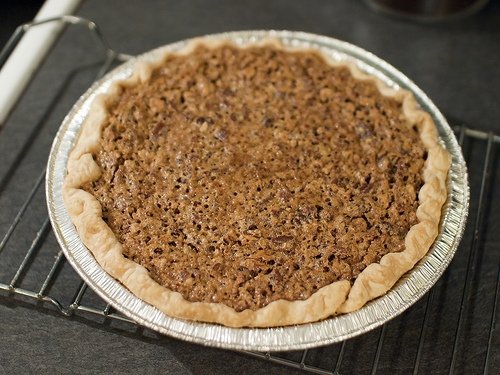 Photo Credit: jensl
At first glance, this pie looks like your typical pecan pie, but the addition of oatmeal adds a certain something that I just can't describe. You'll have to try it for yourself! In a bowl, mix together a cup of light corn syrup, a cup of dark brown sugar, 2 slightly beaten eggs, 2 slightly beaten egg whites, a quarter teaspoon of salt, 2 teaspoons of vanilla extract, 2 tablespoons of melted butter, two-thirds cup of oats, and a half cup of chopped pecans. Whisk ingredients well and pour into an unbaked pie crust. This amount of ingredients will fill a 9 inch pie crust. Bake the pie for 50 minutes at 325.
---
3

Peanut Butter Banana Pie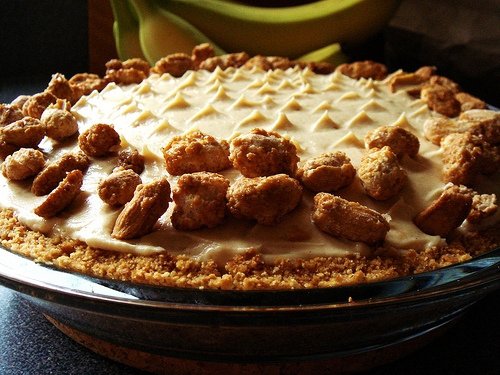 Photo Credit: ComeUndone
Kids absolutely love this pie. I have yet to have one turn down a piece of it! For the crust, crush 20 vanilla wafer cookies and mix with 2 tablespoons of melted butter and a slightly beaten egg white. Let the butter cool a bit before tossing it in with the cookie crumbs. Spray the bottom of a 9 inch pie pan and press the crust mixture into it. Bake the curst for 10 to 12 minutes at 350 degrees and cool. For the filling, mix together two-thirds cup of sugar, 3 and a half tablespoons of cornstarch, and a quarter teaspoon of salt into a pan. Whisk in one and a third cups of milk and cook the mixture until it comes to a boil. Beat 2 large eggs and mix in a third of the hot custard mix to temper the eggs. Combine this egg mixture and the previous batch of custard mix together. Continue to cook over medium heat until thick and stir in 3 tablespoon of peanut butter and a teaspoon of vanilla extract. Allow the mix to cool while you line the bottom of the crust with slices of banana. Place the filling on top of the banana slices and cover with plastic wrap. Chill the pie for 4 hours and add whipped topping over the top before serving.
---
2

Chocolate Mousse Pie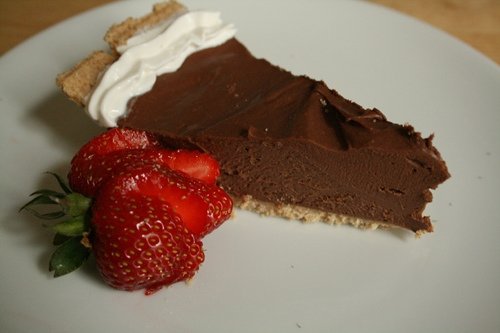 Photo Credit: AsstroGirl
This pie is a chocolate-lover's dream! Crush up a cup worth of graham cracker crumbs and mix a third cup of baking cocoa, plus a fourth cup of sugar with them. Moisten the crumbly mix with a third cup of melted butter and press into a pie pan. Bake for 10 minutes and then sprinkle a half cup of chocolate chips over the hot crust. Once they begin to melt, spread them over the bottom with a spatula or spoon. While the crust is cooling, mix together 2 cups of chocolate chips and three-fourths heavy cream. Put the cream and chocolate chips in the microwave on high for a minute, then stir. Keep cooking this mix at 15 second intervals until the chips are melted. Be sure to stir it each time. Use one and a fourth cups of heavy cream and beat a teaspoon of vanilla extract, plus 2 teaspoons of powdered sugar with the cream. Be sure the bowl used for this last mixture is chilled and beat until peaks begin to form. Fold 2 cups of this cream mixture into the chocolate mixture and spoon into crust. Top with the rest of the homemade whipped cream and refrigerate for about 4 hours.
---
1

Strawberry Rhubarb Pie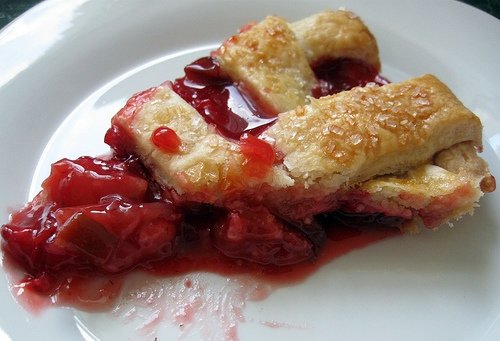 Photo Credit: haleysuzanne
Mix together 3 cups of sliced strawberries with 3 cups of chopped up rhubarb and 2 cups sugar. Toss the fruit and sugar together with two-thirds cup of flour until all pieces are well-coated. Pour this mixture into an unbaked pie crust and dot with a tablespoon of butter. Cover the pie with another crust if desired. If you do use a second crust, sprinkle a bit of sugar over the top and cover the edges of the crust with foil before baking. Bake the pie at 425 degrees for 55 minutes.
I hope you enjoy this list of 8 delicious pies to try this summer and find something that truly makes your summer time meal exciting for everyone. What is your favorite type of pie to make during the summer?
Top Photo Credit:: data.whicdn.com
More