Share
As I think I've mentioned before, I love cupcakes! I also love baking, and I am always looking for inventive things to do. The kitchen is my favorite place to experiment – probably because I always pulled Cs in organic and inorganic chemistry, so working with chemicals is a bad idea. Flour and baking soda and chocolate powder and vanilla bean, though – that I can handle! But new recipes are only half the fun – I love making pretty cupcakes, too! And here are 9 neat looking cupcake tins that let me do that!
---
1

Flower Basket Tin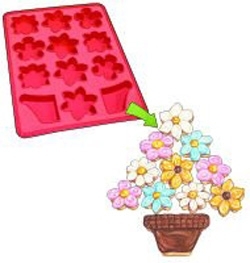 Price: $12.99 at amazon.com
First up, we have this flower basket tin by Roshco. What's neat about this is that the mold really is an entire bouquet. The two halves of the basket are down there at the bottom of the silicon tin. You put those together, and then you can arrange all the blossoms above it, so it looks like you have an actual flower basket!
---
2

Multi Tier Tin

Price: $21.99 at amazon.com
I like this tin because you can simulate three layer cupcakes. Your cupcakes can look like miniature cakes! There are fantastic opportunities for decorating here, you can easily get really inventive. This tin presents a great opportunity to turn out some really classy, frou frou cupcakes.
---
3

Ice Cream Cone Tin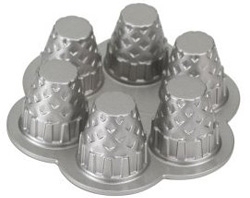 Price: $29.96 at amazon.com
I think this cupcake pan is really cute! As you can see, the mold is made to look like ice cream cones! So, naturally, the cupcake itself ends up being the cone, and you can make the ice cream scoops out of frosting. Well, even that won't be necessary, because your cakes will puff up over the tops of the molds to create the "scoops," but you can give them a soft serve kind of swirl with your icing!
---
4

Backyard Bugs Tin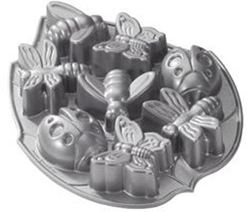 Price: $27.20 at amazon.com
These bugs are so cute! This would be ideal for a kid's party, but I think it would look great for summer get togethers as well. There are moths, lady bugs, a bee in the middle, butterflies, and even dragon flies! Again, these lend themselves well to some really gorgeous decorating. I think you could do wonders with some gel icing especially.
---
5

Mini Heart Tin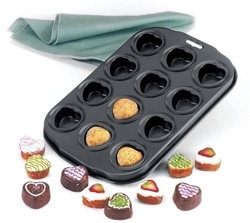 Price: $13.49 at amazon.com
Heart shaped cupcake tins are a dime a dozen, I know. But I picked this one all the same, because it's a little different. They're miniature hearts! They are so cute! These would be great on Valentine's Day, but they're also just a cute way to show your love any day. You can even make them look like little candy hearts, with romantic messages!
---
6

Zoo Animal Tin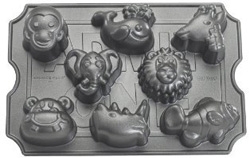 Price: $23.72 at amazon.com
Here's another great option for kids parties, although this tin is generally great for any animal lover. The molds are eight different animals. There's a lion, a whale, and a giraffe up top, followed by an elephant and a lion in the middle, and a hippo, a rhino, and a fish on the bottom row. I read the reviews on these, and evidently the finished products look just like the intricate patterns on the molds. Awesome!
---
7

Multi Cavity Tin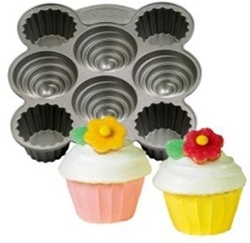 Price: $30.99 at amazon.com
I think this tin is cute because you basically get to put your cupcakes together. The molds are in the shape of the perfect cupcake. You have the ridged molds for the bottoms, then the swirly molds for the tops! This tin makes it easy to make the kind of cupcake you usually only see on advertisements and boxed mixes.
---
8

Giant Cupcake Tin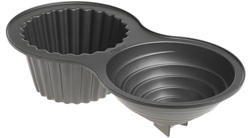 Price: $24.73 at amazon.com
Sometimes a little cupcake just isn't enough. I don't know about that As-Seen-on-TV, uber large cupcake cake mold thing, but this one evidently works beautifully. As you can see, it too is a mold mix meant to create the perfect cupcake, with ridged bottom and swirly top. Also awesome!
---
9

Floral Tin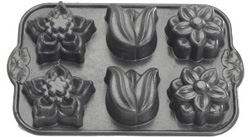 Price: $29.99 at amazon.com
Finally, there is this lovely floral tin. It has the stems of the flowers as well as two designs for the blossoms themselves. You can make a really gorgeous, springtime kind of display with this cupcake pan, and the flowers are so intricate, you could do a really amazing job on the decorating.
I actually want to buy all of these. I mean, right now. It's 2am and I want to make cupcakes. Do you have any inventive cake molds?
More