Share
I love baking special treats for the holidays, but I've gotten tired of making the same cookies, like chocolate chip or walnut. Come on, there has to be something more exciting and unique out there, right? So I've done some digging, and have asked friends and family to share their favorite recipes, and now I'm thrilled — I'll have the prettiest, tastiest cookies this holiday! Here are 7 great holiday cookie recipes, and not one of them is average, dull, or even ho-hum.
---
1

Kolacky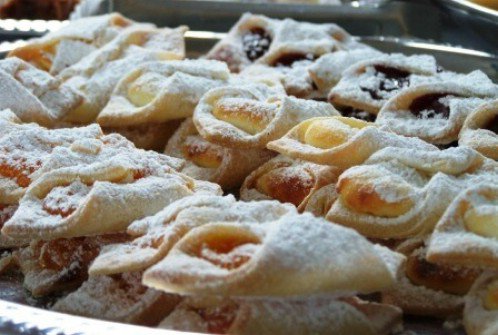 Photo Credit: Polonia Catering
These are a traditional Polish cookie, and I use a recipe handed down from my grand-father's mother, who was born and raised in Poland. You'll need ½ cup of softened butter, 4 ounces of room-temperature cream cheese, 1 cup of flour, and your favorite flavor of preserves (raspberry and apricot are my favorites) plus powdered sugar for topping. Cream the butter and cream cheese together, then add the flour and beat until well-blended and "doughy." Divide the dough in half, put each half in a large Ziplock bag, smush them flat, and chill. One at a time, take the dough out of the bags, roll it flat and about an eighth of an inch thick, cut the dough into 3-inch squares, and put a dab of preserves in the middle. Pinch closed opposite corners of the dough together across the preserves, then bake at 375 for about 13 minutes until the cookies are VERY light brown. Cool on the cookie sheet for a few minutes, then carefully move them to a rack to cool completely. Once they're cooled, sprinkle them with powdered sugar. So pretty!
---
2

Trail Mix Cookies

These cookies have a little bit of everything in them, and are one of my favorites. Start with your favorite oatmeal cookie recipe, then add ¼ of a cup of each of the following before baking: coconut, chocolate chips, walnuts, and dried cherries. Don't like coconut or dried cherries? Leave them out or substitute raisins. Make them as big or as small as you like, and enjoy them with a tall glass of ice-cold milk.
---
3

Ladies' Kisses

These cookies are so much fun to make, and they look so pretty when they're done! You'll need 1¼ sticks of softened butter, 1 egg yolk, 1 cup of ground almonds, 1 cup of flour, 2 squares of semi-sweet chocolate, ½ cup of sugar, and cocoa powder and powdered sugar to sprinkle over the finished cookies. Beat the butter and sugar until they're fluffy, then add the egg yolk, then the almonds and flour. Make the dough into a big ball, then put it in a big baggie and chill it in the fridge for an hour and a half. Break off small pieces of the dough, roll them into balls, and bake them on a cookie sheet lined with parchment paper at 325 for 20 minutes. Cool them completely. Melt the chocolate in a saucepan or double-boiler, then dip the bottoms of each cooled cookie into the chocolate, sandwich two cookies together, then place the round cookie sandwiches on a cooling rack til they're all made into sandwiches. Dust them with powdered sugar and/or cocoa powder. Aren't they pretty?
---
4

Peanut Butter Fudge Cookies
Photo Credit: prideandvegudice
This recipe is unique because it's made with olive oil, not butter! You'll need 1 cup of peanut butter, 6 tablespoons of olive oil, 1 cup of sugar, 1 cup of packed brown sugar, 2 lightly-beaten eggs, 1 tablespoon of vanilla extract, 2/3 cup of cocoa powder, 1 cup of flour, 1 teaspoon of baking soda, and ½ teaspoon of salt. Cream together the peanut butter, oil, and sugars, then the eggs and vanilla. In a separate bowl, mix together the cocoa powder, flour, baking soda, and salt. Add this dry mixture to the creamy mixture gradually, but note that it will take a LONG time to get everything mixed together… the dough will be rather dry and crumbly, but that's perfect! Make the dough into balls, then place them on a cookie sheet lined with parchment paper and smush them a little. Bake at 350 for 8 or 9 minutes, then cool before you move them to a plate or rack. They'll look a little cracked, but these are so delicious!
---
5

No-Bake Cookies

What can be quicker or easier than cookies you don't have to bake? They're so simple, too! You'll need ¼ cup of cocoa powder, 1 teaspoon of vanilla extract, 1 stick of softened butter, 2 cups of sugar, ½ cup of milk, ½ cup of peanut butter, and 2 cups of oatmeal. Bring the first 5 ingredients to a bubbly boil in a saucepan, then remove from heat and add the peanut butter and oats. Stir well. Drop by rounded spoonfuls onto waxed paper, and let cool completely. Done! How easy was that?
---
6

Les Langues Des Chats (Cat's Tongues)

This is a recipe from my friend Emily, who's studying to be a chef. They're so rich! You'll need 10 tablespoons of butter, 10 tablespoons of sugar, 1½ cups of flour, 3 eggs whites, 1½ teaspoons of vanilla, and 2 cups of semi-sweet chocolate chips. Cream the butter and sugar together, then add the egg whites. Mix in the flour and vanilla, then put the dough into a pastry bag with a wide tip and squirt the dough in thin strips about two inches long onto cookie sheet. Bake at 400 for 10 to 15 minutes, then cool on a rack and dip only one end of each cookie into the melted chocolate chips. Cool on parchment paper, then enjoy with a glass of milk or mug of hot tea. And say thank you to Emily!
---
7

Gingerbread Cookies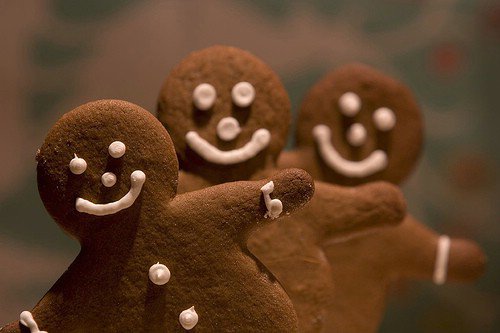 Photo Credit: Mr.OutdoorGuy
This is a holiday classic, but it's hard to find a good gingerbread recipe for making these cute little men and women! I finally found this recipe in Southern Living. You'll need 2¼ cup of sugar, ¾ cup water, 1/3 cup of dark corn syrup, 1½ tablespoons of ground ginger, 1¼ tablespoons of ground cinnamon, 2 teaspoons of ground cloves, 1¼ cups of softened butter, 1 tablespoon of baking soda, 1 tablespoon of water, 6 cups of flour, and whatever decorations you want to make your little people. Cook the sugar, syrup, ¾ cup water, and spices in a saucepan over medium heat until everything's melted together. Add the butter and continue cooking until it's melted. Combine the baking soda and 1 tablespoon of water, then stir into the sugar mixture. Pour the sugar mixture into a big bowl, then gradually add the flour until blended. The dough will be very thick! Then roll out the dough to 1/8 inch thick and use a 5 or 5½ inch cookie cutter to make the gingerbread men and women. Bake them on lightly greased cookie sheets at 350 for 10 to 12 minutes. Let them cool on the sheets for a minute, then move them to a cooling rack. When they're done cooling, decorate them and admire how cute they look!
Those are my new favorite holiday cookie recipes, and once you make them, you'll understand why! I especially love the kolacky and the ladies' kisses, but they're all delicious! Which cookies do you make every year, and would you please share the recipe? I'd love to add some more to my cookie book!
Top Photo Credit: `Cuteness
More