Share
Summertime is the best time to enjoy fresh strawberries. You could eat strawberries on everything from ice cream to cereal, to pancakes. Here are my favorite ways to enjoy this summer time fruit!
---
1

Strawberry Jam Muffins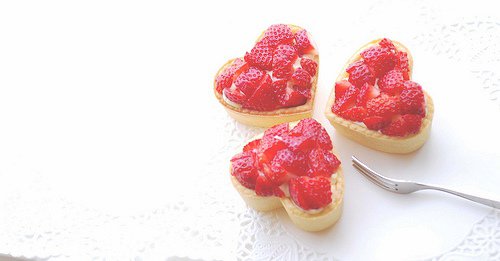 Photo Credit: yoshiko314
2 c. all purpose flour, 1/2 tsp cinnamon, 1 egg, 1/2 c brown sugar, 2 TBS strawberry jam, 3/4 c milk, 2 TBS melted butter, 2 tsp vanilla. Combine all dry ingredients except the brown sugar. Mix brown sugar, egg and jam, and then add in butter, milk and vanilla. Pour wet and dry ingredients and stir until just moistened. Pour into muffin pans 2/3 full.
Bake at 400° F, about 20-25 minutes. Serve with fresh strawberries on top
---
2

Slurpie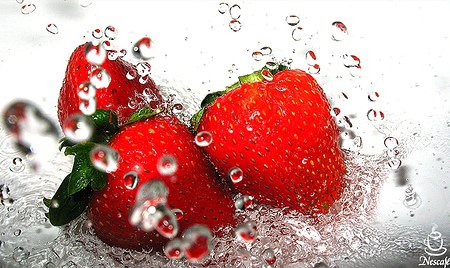 Photo Credit: Nescafe_kw
½ c fresh, sliced strawberries, ½ sliced banana, 1 c milk, ¼ c ice, honey or sugar to taste. Mix in blender and your healthy, quick breakfast or treat to go is ready in a snap!
---
3

Cheesecake Made Easy

1 bar cream cheese, 1 small container cool whip, 1/3 c sugar, 1 tsp vanilla. Beat cream cheese in mixer for 5 min. Add rest of ingredients and mix for about 10 more minutes. Pour into graham cracker crust. Cover with sliced strawberries you have covered in sugar and let set for about 2 hours to acquire juice. (About 1 c strawberries and ½ c sugar)
---
4

Strawberry Freezer Jam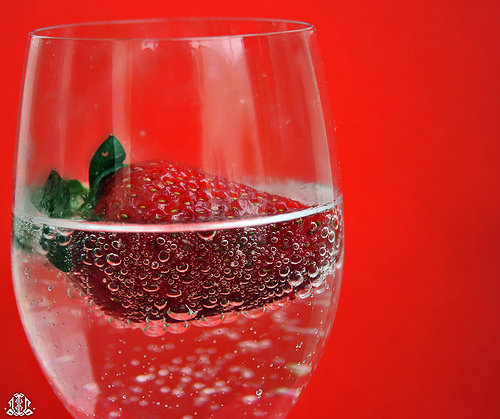 Photo Credit: FatoOoma Qatar ~
5 c fresh strawberries, sliced, 4 c sugar, 3/4 cup water, 1 (1 3/4 ounce) package powdered fruit pectin. Crush berries completely. Measure 2 cups strawberries and thoroughly mix in sugar. Combine water and pectin and bring boil one minute, stirring constantly. Stir pectin into berries and stir for 3 minutes. Pour into sterilized freezer jars or containers, leaving 1/2 inch at top. Cover with lids. Let stand at room temperature 24 hours.
Put in freezer.
---
5

Pancake Relish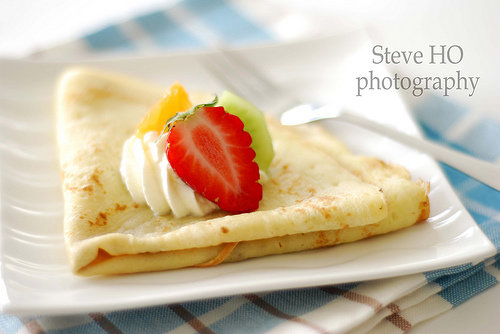 Photo Credit: SHGarden
1 pound sliced strawberries, ½ c sugar, ¼ c orange juice, 1tsp orange zest. Boil sugar, juice and zest until sugar has dissolved. Pour over sliced strawberries. Let sit while you make your pancakes! Or you can eat this with crepes. So good!
---
6

Strawberry Melon Salad

1 melon, cut into 1 1/2-inch chunks, 1 pint halved strawberries, 2 sliced kiwi, 1/4 c lime juice, 2 TBS sugar, 2 c plain yogurt, 1/4 c sugar, 1 TBS lime juice. Combine melon chunks, strawberries, limejuice and 2 tablespoons of sugar in a large bowl. Let stand for 15 minutes, stirring occasionally. Combine yogurt, 1/4 cup sugar, and 1 tablespoon of limejuice. Stir until the sugar has dissolved. Refrigerate
---
7

Fresh Strawberry Milk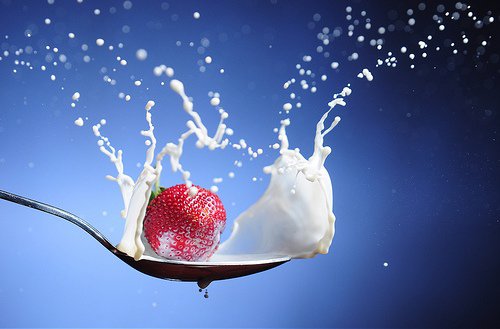 Photo Credit: Erwin Co Photography
Slice strawberries, than crush. You can press through a sieve, or serve like you would orange juice with the pulp. It takes about 3 large strawberries per cup of milk. Add sugar to sweeten. This is much better that strawberry syrup from the store!
Do you have a favorite strawberry recipe you can't make it through the summer without? Leave me a comment and let me know what it is!
Top Photo Credit: david.kittos
More